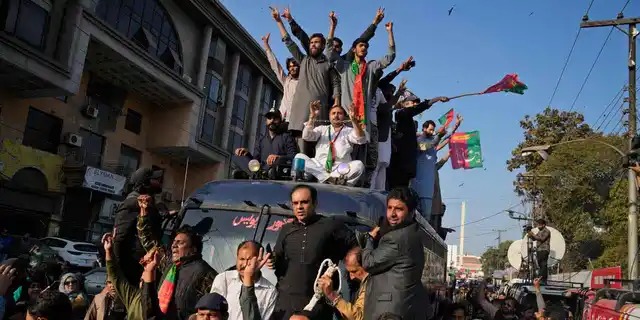 A high-ranking retired Pakistan Army general was arrested early Monday morning on charges of inciting the public against national institutions. Lt General (retd.) Amjad Shoaib, a prominent supporter of former prime minister Imran Khan, was detained by the Islamabad police from his residence in the federal capital after a first information report (FIR) was registered against him at the Ramna police station on Sunday by Magistrate Owais Khan.
He was produced before an Islamabad court which remanded him to police custody for three days. The police had sought his custody for seven days to investigate the charges.
The FIR is based on section 153A (promoting enmity between different groups, etc) and 505 (statements conducing to public mischief) of the Pakistan Penal Code.
According to the FIR, the retired general incited people to revolt against institutions during a television interview.
In the complaint, it was said that the retired general – in an interview on BOL TV show 'Imran Khan Bol Kay Saath' aired on Saturday – passed statements that "incited the government officials and opposition from performing their government and legal duties".
The FIR quoted Shoaib as saying that the 'Jail Bharo Tehreek' (court arrest movement) could not produce the desired outcomes because it was only the people who were bearing pain and agony in it, while "narcissist and shameless rulers sitting atop didn't care the least about it".
The magistrate stated that the retired army officer had advised to "work out a strategy".
"For example, you can stop people from going to government offices in Islamabad," the FIR quoted Shoaib as saying.
Shoaib has been a regular face of Pakistan TV talk-shows for the last many years and better known for his controversial remarks.
He was previously summoned by the Federal Investigation Agency (FIA) to appear on September 7 last year after he claimed a meeting held between the Pakistani prime minister and an Israeli team. However, he didn't appear before the FIA's Cybercrimes Wing.
Over 80 workers, including six senior leaders, of Khan's Pakistan Tehreek-e-Insaf party were arrested on Wednesday following its mass court arrest movement over what it called the violation of fundamental rights, abuse of the Constitution and the economic meltdown.
The party, however, claimed that between 500 and 700 workers and leaders have been picked up by the Lahore police.
Pakistan Muslim League-Nawaz chief Shehbaz Sharif replaced Khan as prime minister after the former cricketer-turned politician was ousted in a no-confidence motion in Parliament in April 2022.
Since then, Khan has been seeking early elections. The government has rejected calls for early elections, saying the vote would be held as planned later this year.