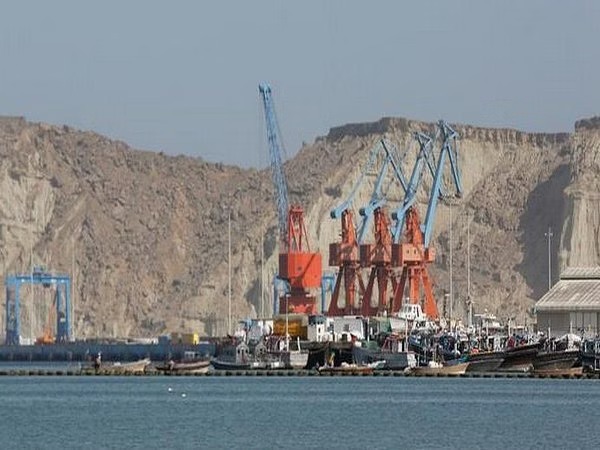 Islamabad [Pakistan], February 28: The China-Pakistan Economic Corridor (CPEC) project that was commenced a decade ago was held as a harbinger of prosperity for Pakistan. However, seven years later, many projects under the CPEC still remain non-starters while some of those being operational have become liabilities and are incurring losses.
China's ambitious CPEC project launched in 2013 was flawed from the beginning when it was assumed that it would be able to generate jobs and growth in Pakistan.
While China had its own agenda of resolving its energy needs through the CPEC project by bypassing the existing route from the Straits of Malacca between Malaysia and Indonesia, Pakistan was constantly grappling with its internal horrors like blasphemy-related lynching and over-expressive "jihadi" groups.
Ever since the CPEC project came into existence few local groups started opposing it and the project itself faced a lack of a "skilled" workforce.
The education system of Pakistan is in shambles and it offered low-grade human capital. Corruption has been a bedrock of CPEC dealings in Pakistan. Officials and companies involved received kickbacks and everything was overlooked in the name of national security with no opacity.
The constant face-offs between the locals and the Chinese workers get highlighted in the media on a daily basis. A special force of 10,000 has been deployed to protect Chinese workers in Pakistan, while the locals live in fear.
Pakistan declared itself bankrupt and this has totally taken the steam out of the CPEC project. China is aware that Pakistan is going Sri Lanka's way and anytime the public can explode due to the volatile conditions.
Petrol, cooking gas, and even basic amenities like wheat have become elusive to the common man in Pakistan. The infamous 'wheat crisis of Pakistan' has been mostly the result of Ukraine-Russia war, poor distribution, and the smuggling of wheat to Afghanistan.
The International Monetary Fund (IMF) has revealed that China holds roughly USD 30 billion of Pakistan's USD 126 billion in total external foreign debt, which is thrice the amount of IMF's debt (USD 7.8 billion) and exceeds it borrowings from the World Bank and Asian Development Bank combined.
When Islamabad urged Beijing to forgive its debt liabilities worth USD 3 billion owed by it to China-funded energy projects established under the CPEC the clear response was a no.
Earlier China was able to lure struggling Pakistan into its debt trap as it has done to many other smaller countries. Pakistan has a debt of more than USD 19 billion invested in the plants is owed largely for the building of independent power producers (IPPs) on take-or-pay power generation contracts.
Pakistan's all-weathered-ally China refused to budge on Islamabad's request to renegotiate the power purchase agreements worth USD 3 billion on the pretext that its prominent banks, including China Development Bank and the Export-Import Bank of China, were not in a position to revise any of the clauses of the agreement reached earlier with the government.
Dejected by the unfriendly response Pakistan Tehrik-e-Insaf (PTI) Senator and industrialist Nauman Wazir stated that "First, the tariff determined by National Electric Power Regulatory Authority (NEPRA) at the time of allowing power generation in the private sector was on the very high side."
Moreover, he said, "Then, the IPPs submitted erroneous declarations concerning capital, financial assets and operational cost of the company, which became obvious when the balance sheets of the IPPs were made public."
Pakistan is reeling under immense pressure and has entered troubled water with debt liabilities of USD 294 billion, which ironically represents 109 per cent of the GDP.
Beijing itself is facing an economic crisis at home and cannot afford infrastructure loans.
When Pakistan's PM Shehbaz Sharif visited Beijing to meet and requested a rollover of USD 6.3 billion in debt, China had allegedly given affirmation after which Sharif openly announced that over USD 4 billion debt would be revised, but all these were mere talks as nothing concrete ever came into existence.
On the other hand, it is not just CPEC that has taken a hit even the ties between China and Pakistan are on a decline. A very recent observation is China's silence against India's move to exclude Pakistan from a high-level meeting on the sidelines of a virtual so-called BRICS summit, including other developing nations.
Experts believe that China now is wary of Pakistan's instability which has put the chances of its CPEC project moving ahead in danger.
China, being a capitalistic nation, has directed its companies to invest in Pakistan with the pure aim to earn profit and build on its CPEC project.
But there are many recent attacks on Chinese nationals in Pakistan that have irked China. President Xi Jinping too expressed his great concern about the safety of Chinese nationals in Pakistan when he last met his Pakistani counterpart.
China is keeping a close watch on Pakistan deteriorating situation and is aware that a recent round of talks with the International Monetary Fund to release new funds had failed.
Pakistan is a country with a history of military coups and extremists having a say in key policy decisions. This often resulted in major CPEC dealings being stalled that were found to be corrupt in nature.
The only thing that is working for China-Pakistan relations and keeping the CPEC dream alive is growing US-India security ties. China is in the middle of an intense trade war with the US and in the same breadth it is about to extend military assistance to Russia, arch-rival to the US.
Beijing understands that it can no longer take financial assistance from the United States and is now overly dependent on China for economic and military assistance.