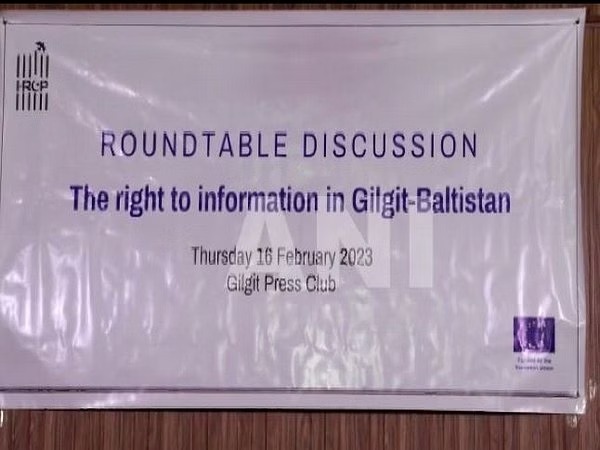 Gilgit-Baltistan [PoK], February 27: The 'expression of speech' and 'media freedom' is still a distant dream for journalists and activists serving in Pakistan-occupied Kashmir (PoK) Gilgit-Baltistan region.
In a roundtable discussion organised by the Human Rights Commission of Pakistan (HRCP) on the theme, "The right to information in Gilgit-Baltistan", the participants raised concern over information-sharing by different wings of the government department.
One of the participants complained that no information is given by the government even after filing RTI (Right to Information) in the PoK region.
Another participant said they face hurdles in getting information from various departments about any schemes in the Hunza region.
A number of journalists present at the event underlined the denial they receive from the government authorities against any general query they have regarding public policies or schemes.
Although, the constitution of Pakistan upholds the Freedom of Information Ordinance enacted in 2002 and further added Article 19(A) to encourage it–the journalists in Gilgit-Baltistan find it a mere adage to a book with no significance.
Journalists said the 'Right to Information Act' or RTI is however applicable in Pakistan, it doesn't hold any relevance in the occupied region.
The systematic crackdowns on voices of dissent, blatant human rights violations and detentions of journalists speaking against the Pakistan regime have been common in Gilgit-Baltistan.
In such a scenario, holding discussions on 'Right to Information' and 'Press Freedom' by the journalists of Gilgit Baltistan could be seen as a courageous effort.
This, however, indicates a new breed of fearless journalists in the offing that would rise and fight for the rights of the common men in the illegally occupied territory.
Moreover, while February 21 is observed as International Mother Language Day every year to promote linguistic and cultural diversity and multilingualism, however, the use of Sheena and Balti languages two big languages of Gilgit-Baltistan is decreasing and it's impacting the culture as well, reported Pak vernacular media Baad-e-Shimal.
Sheena and Balti are losing grounds out of 15 languages spoken in the province.
Referring to the commemoration of World Language Day celebrations across the world today, Pahenji said, "It is time our powers stop fearing languages and give national language status to all languages being spoken in the country. This will promote a sense of harmony and cut down hatred in the country. We need to try it again if we have not hitherto given this status to our main languages in the country. Let us give it a chance; it might help usher in more harmony and cut down the atmosphere of uncertainties over the country".
Also, there are reports that 6000 children are out of school in the Baltistan region, reported Daily K2.
According to the United Nations Children's Fund (UNICEF), Pakistan currently has the world's second-highest number of out-of-school children (OOSC) at approximately 22.8 million children, representing 44 per cent of the total population of children.
While GB has a high literacy rate in Pakistan compared to the rest of Pakistan, the region also has a considerable number of OOSC.
Various socio-economic factors contribute to OOSC, such as an inability to afford tuition, non-inclusive learning environments, the distance of schools from homes, poor infrastructure, or a dysfunctional family environment.
OOSC ultimately leads to a higher proportion of an unskilled and uneducated workforce, an increase in poverty and other hurdles to sustainable development. Children also become vulnerable to rights violations such as child labour.