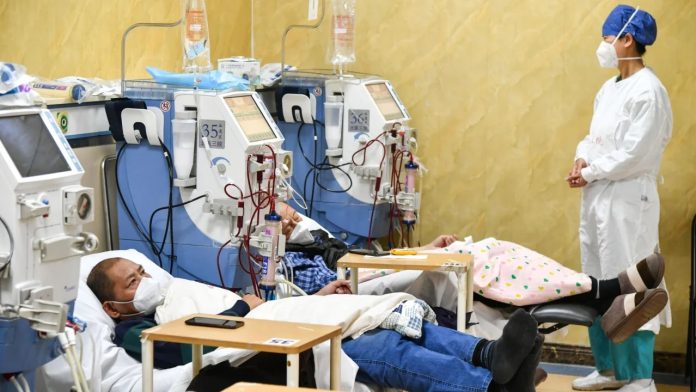 China has launched a sweeping anti-corruption campaign targeting its hospitals, pharmaceutical industry and insurance funds as it grapples with mounting economic challenges and long-standing public frustration about high costs in the behemoth health care sector.
More than 180 hospital leaders, including Communist Party secretaries and hospital heads, have been put under investigation so far this year, according to state agency China News Service, with at least 10 of those voluntarily surrendering since June.
That's more than double the number of such cases last year.
Reports and rumors about the campaign have dominated local headlines and social media in recent weeks, with state news agencies broadcasting examples.
One involved the president of a small hospital in southwestern Yunnan province alleged to have skimmed more than $2.2 million off the purchase of a medical device for cancer treatment in a 2021 case recently highlighted by anti-graft officials.
Multiple provincial-level departments have come on board with the crackdown, which was publicly launched by 10 national agencies last month – a remarkable level of coordination for such a campaign, even within a decade of anti-corruption efforts under Chinese leader Xi Jinping.
Some areas have set up hotlines for phoning in tips about corruption in the sector, according to state media. Shanghai earlier this summer launched a system of cash rewards for reporting illegal activities under the purview of its market supervision agency – with the number of investigations in the health care sector nationwide expected to grow further in the coming months.
"The speed at which local governments carried out probes, and the severity of penalties meted out, are impressive," Ren Jianming, head of the Center for Integrity Research and Education at China's Beihang University, told state media.
At least one state media report has described the campaign as "unprecedented in the depth, breadth and intensity" of targeting the health care sector.
Experts agree the campaign is China's most far-reaching effort to date to address what is widely seen as an entrenched issue within an industry where cost has a direct impact on the well-being and household budgets of Chinese families.
Beijing has not said why it has chosen to ramp up its efforts now, and experts have questioned whether cracking down on corruption will address systemic issues fueling the problem.
But the campaign comes amid growing public concern over China's economic slowdown and rising unemployment and the government is under pressure to respond to public grievances and stimulate growth.
Targeting graft in the sector has the potential to bring down health care costs, as well as divert public attention from other problems and redirect blame for issues plaguing the sector. It can also enable debt-strapped local governments to gather sorely needed funds as they emerge from three years of costly Covid-19 controls.