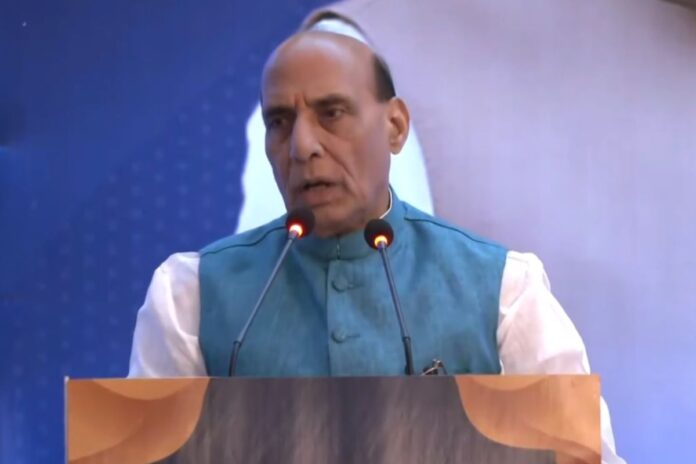 New Delhi [India], April 28: On the sidelines of the Shanghai Cooperation Organisation (SCO) Defence Ministers' meeting in Delhi, Defence Minister Rajnath Singh held a bilateral with his Russian counterpart General Sergei K Shoigu on Friday.
The two Ministers spoke on a variety of topics related to bilateral defence cooperation, including industrial cooperation and military-to-military ties.
They also discussed the Russian defence industry's participation in the 'Make in India' initiative and ways to provide further impetus to it, the Ministry of Defence said in an official statement.
As the two sides acknowledged the unique, long-lasting and time-tested relationship between India and Russia, the two ministers also discussed matters of regional peace and security.
They also expressed satisfaction over the continued trust and mutual respect between the two countries, particularly in defence and reiterated their commitment towards strengthening the partnership, according to the official statement.
Earlier today, Singh while addressing SCO Defence Ministers' meeting in New Delhi said that India believes in maintaining peace & security based on UN Charter provisions and exhorted for concerted efforts to ensure win-win cooperation for great gain.
Furthermore, Defence Minister Rajnath Singh also touched upon the two defence-related activities launched by India, as the SCO chair, to increase interoperability among member states. These are: a workshop on 'Humanitarian Assistance and Disaster Relief (HADR)' and a seminar on 'defence think tanks of SCO countries'. Both events witnessed enthusiastic participation from all SCO countries.
He also voiced India's commitment towards defence capacity building of SCO member states through training and co-manufacturing & co-development of items. He stated that as security challenges are not limited to any one country, India is moving forward with a collaborative approach in the field of defence partnership, keeping in mind the shared interests.
Defence Ministers of China (General Li Shangfu); Russia (General Sergei Shoigu); Iran (Brig Gen Mohammad Reza Gharaei Ashtiani); Belarus (Lt Gen Khrenin VG); Kazakhstan (Col Gen Ruslan Zhaxylykov); Uzbekistan (Lt Gen Bakhodir Kurbanov); Kyrgyzstan (Lt Gen Bekbolotov Baktybek Asankalievich) and Tajikistan (Col Gen Sherali Mirzo) attended the meeting. The Ministers discussed issues of common concern including issues of regional and international security under the charter of SCO during the meeting.
Singh has called upon the Shanghai Cooperation Organisation (SCO) member states to collectively work towards eliminating terrorism in all its forms and fix accountability on those who aid or fund such activities.
He also met the Defence Minister of Uzbekistan, Lt Gen Kurbanov Bakhodir Nizamovich on the sidelines of the SCO Defence Ministers' meeting in New Delhi.