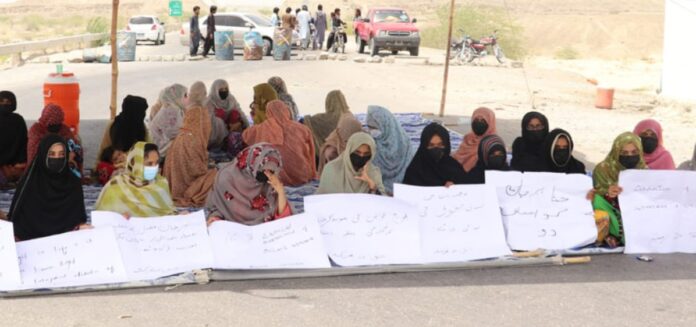 Protests were carried out on Friday in Turbat and Panjgoor against the "enforced disappearance" of Baloch women. Scores of protests, predominantly women and children, took to the roads in the sweltering summer sun, carrying placards and chanting slogans for the safe release of Noorjan Baloch and Habiba Baloch who were allegedly picked up by the Pakistani security forces from Kech and Karachi respectively.
Members of the Turbat Civil Society, workers of the Haq Do Movement and the family members of missing Habiba Baloch blocked the main highway leading to Karachi and Gwadar and sat there in protest. The traffic was suspended for several hours. The family members said that such extreme measures will not benefit the state in any way. If anything, they will aggravate the deep-rooted hatred of the Pakistani state among the Baloch masses.
Habiba Baloch is an artist and a poetess who was reportedly picked up by the Pakistani security forces from her house in Karachi. Her daughter, Hina Baloch, said that the forces had knocked on their door in the middle of the night and when the door was opened, they stormed in and called her mother out for interrogation. They then picked her up and left. The forces also confiscated the mobile phones and laptops of the householders.
Noorjan Baloch, 40, was allegedly picked up from her hometown of Kech on Monday by the counter-terrorism forces. In an FIR registered against her, the forces claimed that she was trying to carry out an attack targeting Chinese nationals when she was arrested and thwarted. The forces said that they had recovered a suicide vest, over 8 kilos of explosives and other ammunition meant to be used in "subservience activities."
Noorjan Baloch and her family members have denied these allegations. She was produced in the anti-terrorism court in Turbat to be prosecuted. Her lawyer told the court that Noor Jahan Baloch was tortured during custody.
A protest was also organized in Panjgoor against the "enforced disappearance" of the Baloch women and the failure of the local administration to arrest the murders of young footballer Dad Jan Baloch who was killed in the broad daylight. The protestors, most of them students, held a demonstration in front of the DC office.
The protestors condemned the crackdown on Baloch students and demanded their immediate recovery. The protestors also demanded the arrest of the murderers of Dad Jan Baloch and also demanded the safe release of Noorjan Baloch and Habib Baloch.
The protestors met with Deputy Commissioner Abdul Raziq Sasoli to present their demands. The deputy commissioner assured them that their pleas will be heard.