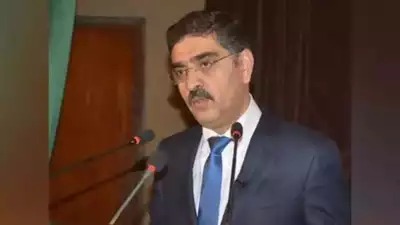 Amid a public outcry over inflated electricity bills, Pakistan's interim PM Anwaar ul Haq Kakar held an emergency meeting on Sunday in which he directed authorities to devise "concrete steps" within the next 48 hours for a reduction in electricity bills.
Protests were held in several cities, including Multan, Lahore and Karachi, against the inflated electricity bills on Saturday, some even threatening a civil disobedience campaign if the extra taxes weren't deducted. Last month, the power regulator raised the national average tariff by around Rs 5 per unit, pushing the base unit power tariff from Rs24.8 to Rs29.8. On August 22, the government once again sought to raise the power rate by Rs3.5 per unit. Pakistan has recently jacked up the power charges as per commitment with the IMF.
"We will not take any step in haste that will harm the country. We will take measures that won't further burden the national exchequer and will facilitate the consumers," Kakar said at the meeting. "It is not possible that while the people face difficulties, officials and the PM continue to consume free electricity paid for with the taxes people pay," he added. He even directed relevant departments and ministries to submit to him the details of the officers who were being provided free electricity.