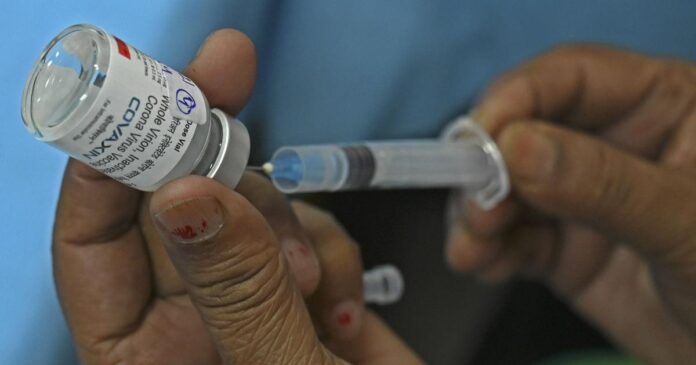 London:
A number of Indian medical experts on Monday supported calls from an eminent British Indian cardiologist for a full safety review into the use of the Oxford/AstraZeneca's COVID-19 vaccine, administered in India as Covishield, over feared serious side effects such as heart attack and stroke.
Dr Aseem Malhotra, a National Health Service (NHS) trained medic who has had two doses of the COVID-19 vaccine, is already leading international calls for the suspension of Pfizer's mRNA COVID vaccine after publishing peer reviewed research last year to warn that the harms could outweigh the benefits for a majority of people.
He is in India this week to deliver a series of lectures on COVID vaccines to try and make an "evidence-based case" for their suspension.
"The use of the AstraZeneca COVID vaccine was suspended in a number of European countries in early 2021 because of the link to serious side effects, so it seems odd that India didn't halt its use also," said Dr Malhotra.
"The rate of reports of side effects that were beyond mild were unprecedented before its use in the UK was phased out in favour of Pfizer's mRNA vaccine at 800,000 reports after 9.7 million doses. Peer reviewed research published in June 2021 revealed that according to pharmacovigilance data, the AstraZeneca COVID vaccine had a worse safety profile for serious adverse effects in comparison to Pfizer's mRNA vaccine for heart attack, stroke and death in both younger and older adults," he said.
His analysis has found the backing of medical experts in India ahead of his lecture tour in New Delhi and Mumbai this week.
"Besides anecdotal reports of sudden deaths the world over, population level data from many countries show high all-cause mortality following COVID-19 vaccination drives. We should pause at these red signals before rushing ahead heedlessly," Dr Amitav Banerjee, Epidemiologist and Professor and Head at DY Patil Medical College, Pune, said in a statement released by Dr Malhotra.
"The commonly used vaccine in India, Covishield, carries a double whammy of risk. While its use was discouraged in most European countries due to serious side-effects like blood clots, it also carries the risk of myocarditis. There is accumulating evidence that this heart condition is associated with the mRNA vaccines. Many would perhaps not know that Covishield carries a DNA gene on an adenovirus which after injection gets converted into mRNA in the body," he said.
"Given the present epidemiology of COVID-19 in our country, and poor mechanism for identifying adverse events following immunisation (AEFI), we should immediately halt COVID-19 vaccination, until these issues are resolved by researchers without any conflicts of interest," he added.
Dr Sanjay K Rai, Professor, Centre for Community Medicine at the All India Institute of Medical Sciences (AIIMS) in New Delhi, said that as the majority of the Indian population has already been exposed to SARS-COV-2, universal vaccination should be reconsidered.
"Global evidence has demonstrated that natural infection provides better and longer duration of protection than any vaccine alone. In the current scenario there is no requirement for universal vaccination against COVID-19. This may cause more harm than benefits," he said in a statement.
The World Health Organisation (WHO) advice states that the Oxford/AstraZeneca COVID-19 vaccine, manufactured and administered in India as Covishield, is "safe and effective for all individuals aged 18 and above".
"The Astra-Zeneca vaccine can be offered to people who have had COVID-19 in the past. But individuals may choose to delay vaccination for three months following the infection," the WHO advice from June 2022 reads.