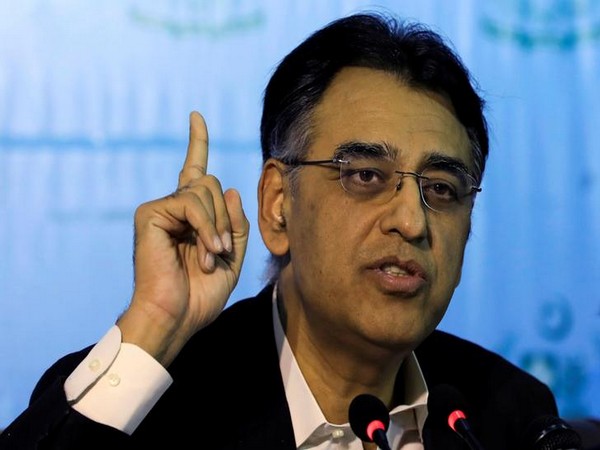 Islamabad [Pakistan], May 10: Pakistan Tehreek-e-Insaf (PTI) leader Asad Umar was arrested from the Islamabad High Court's (IHC) premises a day after the country's former prime minister Imran Khan was arrested.
The Secretary General of PTI was apparently arrested by the Anti-Terrorist Squad of the Islamabad police today.
Umar was taken into custody while waiting outside the IHC Bar Association's office, where they were drafting a plea to submit to the IHC. He had requested a meeting with the PTI Chairman Imran Khan through a petition, according to Geo News.
PTI lawyers attempted to prevent the police from apprehending the force, but Umar was carried away despite their best attempts.
Earlier today, Imran Khan's party called for a nationwide protest against his arrest.
Khan was arrested outside Islamabad High Court by Rangers on the National Accountability Bureau's (NAB) warrant in the Al-Qadir Trust case.
The National Accountability Bureau (NAB) had started an investigation against Imran Khan, Bushra Bibi and others for the alleged gain of hundreds of canals of land in the name of Al Qadir University Trust, which reportedly caused a loss of 190 million pounds to the national exchequer.
PTI workers also held protests in cities across Pakistan, including Islamabad, Rawalpindi, Lahore, Karachi, Gujranwala, Faisalabad, Multan, Peshawar, and Mardan, reported Geo News. In Karachi, demonstrators clashed with the police near Nursery. They pelted stones at police vehicles and tore down street lights.
Meanwhile, Pakistan Tehreek-e-Insaf (PTI) Senior Vice President Fawad Chaudhry said the party will approach the Supreme Court on Wednesday morning to challenge the Islamabad High Court's upholding of party chairman Imran Khan's arrest.
Expressing angst about the arrest of former Pakistan PM Imran Khan, protestors gathered outside the residence of Pakistan's ambassador in Washington on Tuesday (local time) following the arrest of former Pakistan Prime Minister Imran Khan in Islamabad.
Protests were seen in cities including Washington, New York, and Chicago. On Tuesday evening, supporters of Imran Khan gathered outside the Pakistan High Commission in London to protest against his arrest.
The US, Canada and the UK issued travel advisories for their citizens and diplomatic staff, as protests erupted across Pakistan with people clamouring for Khan's release.