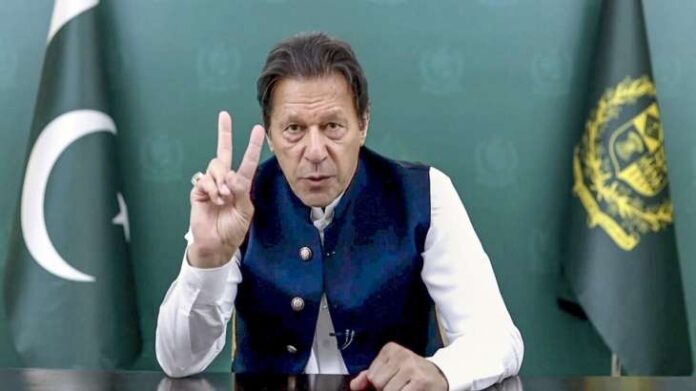 Islamabad [Pakistan], May 10: Former Pakistan Prime Minister Imran Khan on Wednesday appeared before a special court in Islamabad for a hearing in a graft charge, a day after paramilitary forces arrested him from court here triggering widespread protests in the country.
Meanwhile, Pakistan's interior ministry today requisitioned the assistance of the army to maintain law and order in eastern province of Punjab, the ministry announced.
Judge Muhammad Bashir presided over the hearing where the National Accountability Bureau (NAB) requested the court for a 14-day physical detention of Khan, in connection with the Al-Qadir Trust corruption case.
The Pakistan Tehreek-e-Insaf chairman is being defended by a group of solicitors that includes Khawaja Haris, Barrister Ali Gohar, and Advocate Ali Bukhari.
The Deputy Prosecutor General of the National Accountability Bureau (NAB), Sardar Muzaffar Abbasi, and the Special Prosecutor, Raffique Masood, were also present in the court during the proceedings.
NAB was represented in court by Sardar Zulqarnain, the prosecutor, and Mian Omar Nadeem, the investigation officer.
On Tuesday, Imran Khan was arrested outside Islamabad High Court by Pakistan Rangers on a warrant issued by National Accountability Bureau (NAB) in the Al-Qadir Trust case.
The NAB had initiated an investigation against Imran Khan, Bushra Bibi and others for the alleged gain of hundreds of canals of land in the name of Al Qadir University Trust, which reportedly caused a loss of 190 million pounds to the national exchequer.
On the directives of the NAB, an independent anti-graft organisation, the former prime minister was detained by Rangers on Tuesday in connection with the Al-Qadir Trust case. He was then moved to its headquarters in the garrison town of Rawalpindi for questioning.
The Islamabad High Court (IHC) later stated that the detention was valid and reserved its decision regarding it; as a result, Khan's legal team plans to contest the arrest in the Supreme Court today.