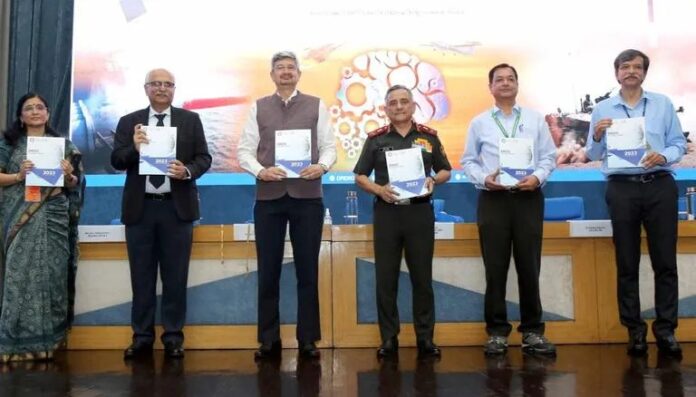 In a move toward addressing the dynamic and uncertain global geopolitical situation, the Indian Armed Forces are undergoing a transformational process called "theaterisation." During the DRDO Directors' Conclave in New Delhi on July 14, Chief of Defence Staff General Anil Chauhan laid out a vision that prioritises technological superiority and jointness to meet emerging challenges effectively.
Key to this transformation is the integration of capabilities in the physical domain, combining the unique strengths and resources of the services through collaborative processes and structures to amplify their war-fighting potential. The integration aims to achieve a multiplier effect, significantly boosting the overall defence capabilities of India.
Adapting to evolving nature of warfare
During the inaugural address, Dr. Samir V Kamat, Secretary of Department of Defence R&D and Chairman of DRDO, emphasised the significance of adapting to the evolving nature of warfare. He highlighted the need for reforms and technological advancements in line with Prime Minister Narendra Modi's Aatmanirbharta (self-reliance) and Make in India vision.
DRDO's commitment to self-reliance in defense technology
As part of its commitment to self-reliance in defense technology, DRDO released its second list of systems and subsystems that will be developed and manufactured by the Indian defense industry. This second list of DRDO is in continuation to the list of 108 items released earlier. The move is a continuation of the Aatmanirbhar Bharat initiative and is poised to bolster indigenous defense capabilities. During the announcement, he also released the "DRDO Guidelines for Production Coordination," which outlines the mechanism for production coordination and resolution of issues associated with the production of DRDO-developed military equipment, platforms, and systems.
Unveiling the DRDO guidelines for production coordination
The "DRDO Guidelines for Production Coordination," unveiled as part of these endeavors, are designed to address production-related hurdles concerning military equipment, platforms, and systems developed by DRDO. These guidelines utilise the expertise of designers, users, production agencies, quality agencies, and other stakeholders to implement a two-tier mechanism for issue resolution in the production of these systems. This initiative is expected to facilitate the development of defense technologies or systems by the Indian Defence Industry, aligning with the vision of Aatmanirbhar Bharat.
Redefining DRDO's role amidst new government policies and security scenarios
The two-day DRDO Directors' Conclave, organised as a follow-up to the Chintan Shivir meetings and reviews by Defence Minister Rajnath Singh, is witnessing intense discussions on redefining DRDO's role amidst new government policies and emerging security scenarios. It is being attended by top officials of DRDO, including Directors General of various technology and corporate clusters, directors of DRDO laboratories, directors of DRDO headquarters, and Integrated Financial Advisors (IFAs). The conclave includes six technical sessions, each followed by a panel discussion, focusing on various issues in line with the theme "Redefining Role of DRDO in the Wake of New Government Policies and Emerging Scenarios."