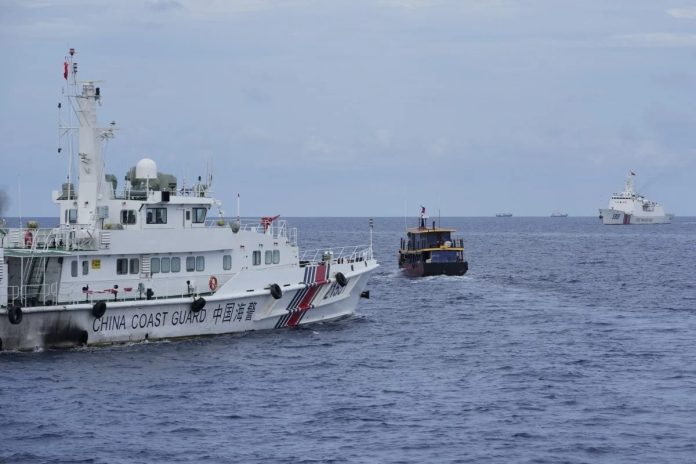 The Philippines' defence chief is pushing for a swift and sweeping modernisation of his country's navy and coastguard to tackle Beijing's aggressive tactics in the disputed South China Sea.
National Defence Secretary Gilbert Teodoro said new defence partnerships were needed and security personnel's skills had to be improved to maintain a reliable deterrent posture.
"We will carry it out through a comprehensive restrategisation, along with forging alliances," he told reporters in Manila on Monday during the commissioning of two coastal patrol ships donated by the United States. "It's natural. Alliances are normal, even China has alliances. So we have to consider this."
Teodoro also denounced the Chinese coastguard's "egregious" violation of maritime laws after it
last week attempted to stop Philippine boats
 carrying supplies for Filipino troops stationed on a rusty old warship in Second Thomas Shoal.
The Philippines grounded 
the BRP Sierra Madre
 in 1999 to reinforce its claim to Second Thomas Shoal, which Manila calls Ayungin.
"I'm not a ship captain but you can clearly tell they were dangerously close. And if something bad happened, who gets the blame? We're moving straight, escorting our vessels. So who's being irresponsible? The answer is obvious," Teodoro said.
He added that resupply missions will continue despite the "harassment" and the country's naval assets need to be nimble to defend its territorial waters.
US ambassador to the Philippines MaryKay Carlson, who attended the commissioning event, said the vessels provided "real, strategic benefit, not just to the Philippines, but to our alliance and to the region" at an "important time when the maritime security environment in the Indo-Pacific is increasingly complex".
Beijing claims sovereignty over almost the entirety of the South China Sea – where the Philippines and several other nations have competing claims – and 
has rejected
 a 
2016 international ruling
 that found its assertions have no legal basis.
Manila has begun to embark on a multibillion-dollar 
military modernisation drive
, with a focus on the acquisition of strategic weapons systems, advanced warships and fighter jets.
But claims that the Philippines was being used as a "proxy war tool" by other countries against China amid continued tensions were rejected by Senator Francis Tolentino at the weekend.
"It's not a proxy war because our ally is not just the US, Japan is also our ally, Australia is our ally, the UK is our ally, and Europe is also our ally. I also mentioned in recent weeks, India has emerged as an ally," Tolentino was quoted as saying by the Philippine Daily Inquirer.
His remarks came after President 
Ferdinand Marcos Jnr
 last week dismissed "misleading narratives that frame the disputes in the South China Sea solely through the lens of strategic competition between two powerful countries", 
referring to the US and China
.