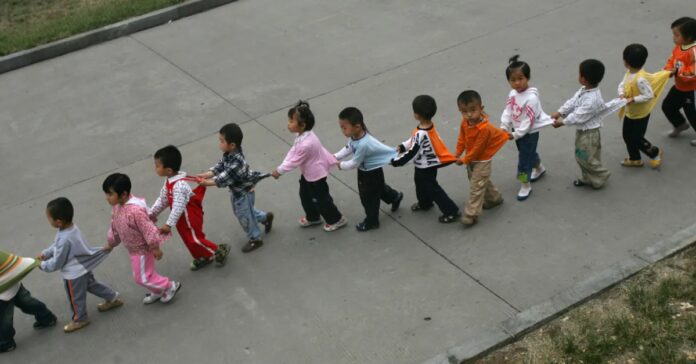 Child sexual assault numbers are increasing dramatically in China, according to recent Chinese Communist Party (CCP) statistics and data from Girls Protection Fund, a Chinese non-profit.
There are some obvious factors for the rising numbers, including China's one-child policy and the country's registration system, which forces many rural parents to leave their families to work in the cities. Rampant corruption among CCP officials is another; as is China's education system, in which millions of children reside away from their families in public boarding schools. Connected to these other factors is China's massive and largely unaddressed record of human trafficking.
However, experts say all those factors point back to a moral decay that goes hand in hand with China's communist regime. Recent efforts to combat child sexual abuse are admirable, they say, but are only a band-aid on a much deeper issue.
Surging Numbers
On May 17, a simple announcement appeared in China News newspaper. "To Li Xiaoran [pseudonym], apologies."
Buried on page 13, the brief apology represented a first for China. A civil court judge had ordered a man accused of raping a young girl over 20 years ago to publicly apologize and make financial compensation.
Although the apology was not exactly brimming with remorse, and the financial restitution of 300,000 yuan (about $44,000) could not wipe out years of pain and suffering, the ruling was hailed as a sign that China's justice system is providing increased justice for victims of childhood sexual abuse.
Despite this pinpoint of progress, child sex abuse cases are increasing significantly in China.
According to a white paper released June 1 by China's highest prosecuting agency, the Supreme People's Procuratorate, in the three years from 2020 through 2022, almost 177,000 people were prosecuted for the sexual assault of minors. In 2022 there was a 20 percent year-on-year rise in the number of arrests for child sexual abuse.
A more recent report, released June 21 by Girls Protection Fund, reviewed every media report on cases of child sexual abuse in China between 2013 and 2021. The report found that a total of 2,952 cases of child sexual abuse were reported in the Chinese media in that time period. Of the more than 5,500 children in those cases, nine out of ten were girls.
The report found that a shocking number of the perpetrators were teachers—just over 35 percent. About 12 percent were family friends of their young victims; about 11 percent were neighbors, and about 10 percent were family members, while "other" accounted for almost 20 percent.
Both reports noted the very young age of many of the victims.
Teachers
Some shocking cases of child sexual abuse involving teachers have been reported in recent years in the Chinese media. In one recently reported case, a school principal allegedly raped and molested numerous disabled students over a four-year period. Citing a "lack of evidence of rape," the principal got off with only three-and-a-half years in jail.
In another case, a primary school teacher molested 15 girls, the youngest of whom was less than six years old. In February, he was sentenced to 13 years in jail.
In November 2021, Chinese news media Sina reported that a male elementary school teacher had raped three girls 20 times and molested dozens of other students. Overall, he was found responsible for more than 230 incidents. The teacher confessed that his behavior was unforgivable, and requested the death penalty. His sentence: the death penalty, with a two-year delay of execution.
A Capricious Legal System
Many victims of child sexual abuse know their abuser, the Girls Protection Fund report noted, observing that the percentage of acquaintances has risen over the past ten years. The perpetrator might be a family friend, family or community member.
A recent example from Chinese media is the case of a 38-year-old man, sentenced in May to 12 years in prison for sexually assaulting the 6-year-old daughter of a neighbor, then treating to kill her family if she told anyone. The abuse was detected and reported by the child's doctor.  The case was widely discussed on Chinese social media; netizens praised the doctor for rescuing the girl.
In another incident, a 7-year-old girl was molested repeatedly by her mother's boyfriend, causing physical damage. The case sparked widespread outrage among netizens when the police withdrew the charges in March of this year due to "insufficient evidence."
The cases highlight the uneven nature of the Chinese legal system when it comes to child sexual abuse. Sexual abuse against children is not clearly defined, and in fact, "indecent assault" against boys 14 to 18 was not considered a crime until 2015.
As a result, the Chinese judiciary often passes light settlements in cases of child sexual abuse, dismisses them on the grounds of insufficient evidence, or reframes the charges to exclude sexual abuse.
The 'Others': CCP Officialdom
According to the Girls Protection Fund report, about 20 percent of predators are neither teachers, nor relatives, acquaintances, or neighbors.
Regarding the identity of these predators, independent journalist Zhuge Mingyang told The Epoch Times he strongly suspects that the report used the vague "other" category to protect the image of the CCP.
"Regarding the crime of sexual abuse of minors, CCP's corrupt officialdom has been rife with a 'penchant' for molesting and raping young girls, utilizing their power and authority," Mr. Zhuge said on July 1.
Although there has been some notable media coverage of abuse by CCP officials, most of these crimes go unreported and unpunished, according to Mr. Zhuge.
One case that made it into the public eye was that of Kang Yong, former deputy party secretary of the Public Security Bureau in Qian'an City, in China's northern Hebei Province. In 2019, Mr. Kang was sentenced to 16 years and six months in prison for sexually abusing six girls under 14. The investigation surrounding the case implicated dozens of accomplices, including officials, deputies of the National People's Congress, and businessmen.
In 2013, Guo Yuchi, an official in the Daguan county government, in southwestern China's Yunnan province, kidnapped and raped a 4-year-old girl. Mr. Guo was initially given a lenient sentence, but after an uproar on social media, he was retried and sentence to eight years in prison. He was then released from prison early, sparking more outrage.
Another 2013 case involving a CCP official had a different outcome. After a social media furor, Li Xingong, the deputy director of the municipal party office of Yongcheng, in Henan Province, was executed for raping 11 underage girls during police interrogations.
The situation may be best illustrated by the 2021 case of tennis star Peng Shuai, whose explosive allegations involved a retired CCP official who had once been one of China's most powerful men. Ms. Peng accused Zhang Gaoli of sexual assault, aided and abetted by his wife. The case dominated global headlines as China scrambled to censor Ms. Peng's social media posts. The 35-year-old then mysteriously disappeared from public view and eventually denied making the accusations, presumably under duress.
China's 'Left Behind' Children At Risk
According to the Girls Protection Fund report, the majority of reported child sex abuse cases occurred in urban areas: in 2020, for example, just 9.8 percent of the assaults reported in the Chinese media (when a location was noted) occurred in rural areas.
Girls Protection Fund co-founder Sun Xuemei told Chinese state newspaper Sixth Tone that she believes just as many assaults happen in the countryside, but that for various reasons, they are not reported.
"The fact that the frequency of reported child sex abuse cases in rural areas is much lower than in the cities is directly related to the lack of close supervision in those areas, where both judicial and media supervision is difficult to put in place," Ms. Sun told Sixth Tone. "It doesn't mean that fewer cases actually occur there."
For years, child advocates have been sounding the alarm about China's "left behind children. They are victims of a massive wave of internal migration, and China's rigid household registration system, which restricts their access to healthcare and schooling unless they stay in their home villages.
Left behind by parents who work in China's cities, an estimated 69 million "left behind children" are cared for by aging grandparents or simply left to fend for themselves, according to figures from the National Bureau of Economic Research. Frequently unsupervised, these children are easy targets for sexual predators. According to recent surveys by On the Road to School, a Beijing-based organization, one in three of them reported being sexually abused.
China's Boarding Schools
Many of these rural children—an estimated 10 million, according to a 2017 report by The Economist—attend boarding schools. There are about 100,000 boarding schools in China's countryside.
Unlike their affluent Western counterparts, China's rural boarding schools have been described as "Dickensian." Children in these schools are frequently vulnerable to sexual and other forms of abuse. Several such incidents have been reported at rural boarding schools in the last few years, but it is thought that most go unreported.
While the vast majority of China's boarding school students are from rural areas, many urban children also attend boarding schools—an estimated 3.5 million according to figures from 2017.  Urban boarding schools, unlike rural schools, are generally places where affluent parents send their children as a mark of prestige. Nonetheless, separated from their parents, often from kindergarten, these children are also at greater risk.
The Rotten Fruit of China's One-Child Policy
China's one-child policy, which lasted from 1980 to 2016, limited most families to one child. A lasting effect of the policy, and Chinese parents' preference for male children, is a pronounced gender imbalance in China's population. Research estimates that as many as 40 million women are "missing" from society, according to a 2019 Human Rights Watch report.
As a result of the skewed gender ratio, bride trafficking has exploded in China.  The country is now second in the world in terms of human trafficking victims. Many of those victims are children or underage girls. A large number are abducted from other countries such as Cambodia or Vietnam; while others come from China's vulnerable rural or minority populations.
The issue drew worldwide attention in 2022, when video footage of the "chained woman" in a rural village went viral. The woman, who is in her 40s now, was abducted from her village as a teenager, enslaved, and sold repeatedly before being forced to marry the man with whom she had eight children.  In April of this year, a Chinese court sentenced six people—her "husband" and those who sold her and kept her captive—to between eight and 13 years behind bars.
A Deeper Problem
Despite increased attention to the problem of child sexual abuse in China, "sexual misconduct and incest become the norm in CCP officialdom and a common phenomenon in Chinese society," Mr. Zhuge said.
Xia Yifan, a member of the China Democracy Front and an expert on China's social issues, told The Epoch Times on July 2 that the growing incidence of child sexual abuse and China's monumental sexual trafficking problem—as evidenced by cases such as the "chained woman" are signs of a deeper problem: "the moral decay of the whole nation" under communist rule.