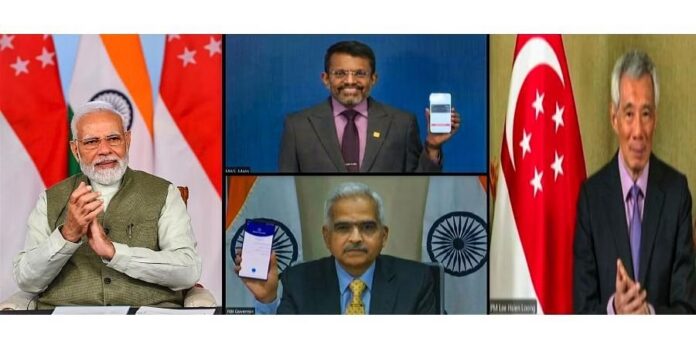 India and Singapore on Tuesday launched the linking of their real-time digital payments systems, a move expected to facilitate cheaper and safer cross-border remittances and benefit members of the 400,000-strong Indian diaspora in the city state.
The idea of linking the two systems was conceived in 2018.
The connection between Singapore's PayNow and India's Unified Payments Interface (UPI) is the first cross-border person-to-person (P2P) payments link for India and the second for Singapore.
It is also the world's first such link to use scalable cloud-based infrastructure that can accommodate future increases in remittance traffic, and to feature the participation of non-bank financial institutions (NBFIs).
The link was launched during a virtual ceremony joined by Prime Minister Narendra Modi and his Singapore counterpart Lee Hsien Loong.
Reserve Bank of India (RBI) governor Shaktikanta Das and Ravi Menon, managing director of the Monetary Authority of Singapore (MAS), made symbolic fund transfers to each other using their mobile phones to mark the launch.
Modi noted that people-to-people ties have been the mainstay of India-Singapore relations and the launch of the linkage "opens a new chapter in cross-border fintech connectivity".
Speaking in Hindi, he added, "With this facility, a cheaper and real-time option for remittances between the two countries will be possible."
Lee noted that digital connectivity has emerged as a key issue in taking forward bilateral ties, and said cross-border retail payments and remittances between the two sides amounted to more than $1 billion annually. After allowing card and QR code payments in 2018, the two sides have taken another step forward to facilitate cheaper, faster and safer retail payments and remittances between businesses and individuals, he said.
"I hope this strong partnership between Singapore and India will continue to spawn innovative technology solutions and create more cross-border opportunities for our digital economies," Lee added.
The launch was preceded by a phone call between the two leaders, who discussed issues of mutual interest.
Modi thanked Lee for his partnership in taking bilateral relations forward and looked forward to working with him during India's G20 presidency.
Customers of participating financial institutions in the two countries can send and receive funds between bank accounts or e-wallets in real-time by using their mobile phone number, UPI identity or virtual payment address (VPA).
The participants on the Indian side are Axis Bank, DBS India, ICICI Bank, Indian Bank, Indian Overseas Bank and State Bank of India. The participants in Singapore are DBS and Liquid Group, also the first NBFI to participate in the link.
Indian customers will be able to receive funds from the onset, while sending of funds is limited to four Indian banks at the time of launch, and this will be gradually expanded. On the Singapore side, institutions will progressively increase the number of eligible user groups and transaction limits by the end of March.
The participating institutions have "committed to ensuring that the service is cost-efficient and accessible, including to foreign workers and students residing in Singapore and India", MAS said in a statement.
This will enable low-cost cross-border remittances, especially from the 400,000 people of Indian-origin in Singapore.
"The linkage also provides for automatic incorporation of capital control rules for enhanced efficiency," the statement said.
RBI and MAS will review and progressively scale the link by increasing the number of participating institutions.
The link is a "major milestone in enhancing the infrastructure for cross-border payments and supports India's G20 presidency priorities to improve the cost, speed, access and transparency of cross-border payments", MAS said.
At launch, selected DBS customers can transfer up to SGD200 per transaction, capped at SGD500 per day. By March 31, this service will be available to all DBS customers, who will be able to transfer up to SGD1,000.
UPI currently handles almost 40% of all real-time global digital payments and the Indian side has been focusing on linking the system with digital payment systems in neighbouring states and countries around the world.