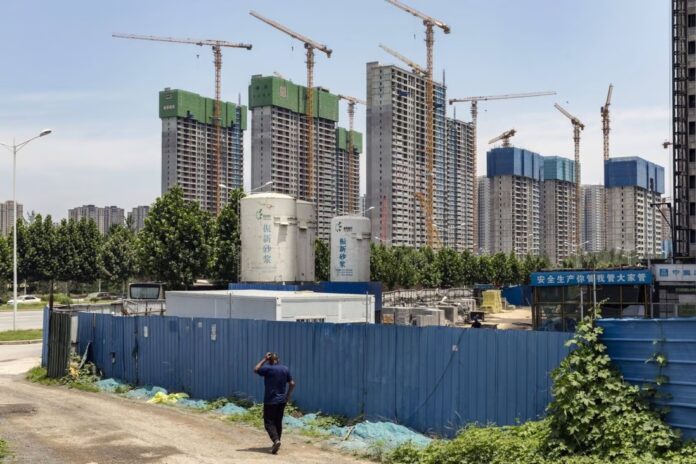 China's underperforming reopening is dragging down the global economic recovery, the IMF said on Tuesday, despite keeping its forecast for China's growth unchanged.
Maintaining its forecast of 5.2 per cent economic growth for China this year came in contrast to the International Monetary Fund's upward revision on both India and the US by 0.2 percentage points, to 6.1 per cent and 1.8 per cent, respectively, in its latest "World Economic Outlook".
"China's recovery could slow, in part as a result of unresolved real estate problems, with negative cross-border spillovers," the Washington-based fund said in its flagship publication. "Sovereign debt distress could spread to a wider group of economies."
Its growth projection remains only slightly higher than Beijing's full-year target of "around 5 per cent".
The fund, however, noted a change in China's economic composition, with consumption growth evolving broadly in line with expectations but investment underperforming.
The IMF said earlier this year that China would contribute to more than 30 per cent of global growth this year.
However, the country's gradual loss of economic steam, as indicated by its sequential growth of 0.8 per cent in the past quarter, looks like a long-term challenge to ambitious expectations that China would lead the global economic rebound this year.
The IMF flagged "negative potential implications for trading partners in the region and beyond".
"The principal risks include a deeper-than-expected contraction in the real estate sector in the absence of swift action to restructure property developers, weaker-than-expected consumption in the context of subdued confidence, and unintended fiscal tightening in response to lower tax revenues for local governments," it said.
The IMF revised up its forecast for global growth to 3 per cent for this year, from 2.8 per cent in the previous forecast in April. But that would still be lower than the 3.5 per cent growth in 2022 and "remains weak by historical standards".
"The balance of risks to global growth remains tilted to the downside. Inflation could remain high and even rise if further shocks occur, including those from an intensification of the war in Ukraine and extreme weather-related events, triggering more restrictive monetary policy," it said. "Financial-sector turbulence could resume as markets adjust to further policy tightening by central banks.
The report added that the rebound in consumption was broadly in line with expectations, but the real estate downturn has dragged down investment.
Although China's stronger-than-expected net exports during the first few months of the year helped offset property-induced investment weakness, this contribution to China's economy has been declining as global demand for China's goods recedes, the IMF pointed out.
Meanwhile, the fund lowered its forecast for global headline inflation and global core inflation both by 0.2 per cent, to 6.8 per cent and 6 per cent respectively, "largely on account of subdued inflation in China".
Leadership said at a Politburo meeting on Monday that China's economic recovery may fluctuate, as it assessed the economic situation and laid out priorities in lifting demand, adjusting property policies, and addressing local government debt in the second half of the year to prop up economic growth.
The moves came after the nation released worrying economic figures, and after investment in the private sector dropped by 0.2 per cent from a year earlier during the January-June period.