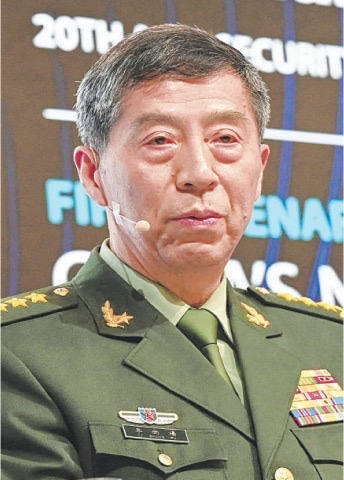 SINGAPORE: China's defence minister warned on Sunday against establishing Nato-like military alliances in the Asia-Pacific, saying they would plunge the region into a "whirlpool" of conflict.
Li Shangfu's comments came a day after US and Chinese military vessels sailed close to each other in the flashpoint Taiwan Strait, an incident that provoked anger from both sides.
"Attempts to push for Nato-like (alliances) in the Asia-Pacific is a way of kidnapping regional countries and exaggerating conflicts and confrontations," Li told a security conference in Singapore also attended by US Defence Secretary Lloyd Austin.
Li said these alliances would "plunge the Asia-Pacific into a whirlpool of disputes and conflicts".
Li did not name any country, but his comments echoed long-held Chinese criticism of the United States seeking to shore up alliances in the region.
The United States is a member of the AUKUS alliance, which groups it with Australia and Britain.
Washington is also a member of the QUAD group, which includes Australia, India and Japan.
"Today's Asia-Pacific needs open and inclusive cooperation, not buddying up into small cliques," Li said at the Shangri-La Dialogue security summit.
"We must not forget the severe disasters brought by the two world wars to peoples of all countries, and we must not allow such tragic history to repeat itself."
World is big enough to grow together Li said that con­flict with the United States would be an "unbearable disaster" but that his country sought dialogue over confrontation.
He said the world was big enough for China and the US to grow together — remarks made days after he refused to meet his US counterpart for direct talks.
"China and the US have different systems and are different in many other ways," he said in a speech that marked his first significant international address since he was named China's Minister of National Defence in March.
"However, this should not keep the two sides from seeking common ground and common interests to grow bilateral ties and deepen cooperation," he said.
"It is undeniable that a severe conflict or confrontation between China and the US will be an unbearable disaster for the world."
Conflict fears
On Saturday, Austin called for top-level defence dialogue with Beijing to prevent miscalculations that could draw both superpowers into conflict.
The United States had invited Li to meet with Austin on the sidelines of the conference, but the Pentagon said Beijing declined.
A member of China's delegation said that the removal of US sanctions on its minister is a precondition for talks.