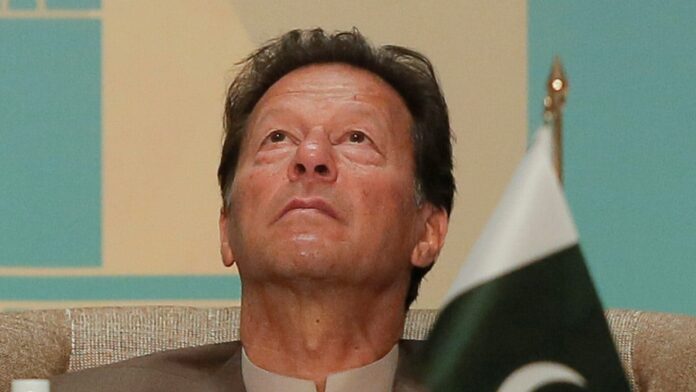 Pakistan's interior minister has accused former Prime Minister Imran Khan of "exposing an official secret document" last year to falsely claim he was ousted from power in a plot by Washington
ISLAMABAD — Pakistan's interior minister on Wednesday accused former Prime Minister Imran Khan of "exposing an official secret document" last year to falsely claim he was ousted from power in a plot by Washington.
The government plans to bring criminal charges against Khan over the action, Interior Minister Rana Sanaullah told reporters in Islamabad, alleging that the former premier's abuse of an official secret document had harmed Pakistan's foreign relations.
The development is the latest in a tug of war between Khan, who was ousted from power in a no-confidence vote in the parliament in April last year, and the administration of his successor, Prime Minister Shehbaz Sharif.
Khan has been slapped with more than 150 legal cases, including several on charges of corruption, "terrorism" and inciting people to violence over deadly protests in May that saw his followers attack government and military property across the country.
The violence erupted after his arrest in connection with a graft case and the rioting subsided only after Khan was released on an order from Pakistan's Supreme Court. Khan has been granted bail in many cases, but has been forced to repeatedly appear in courts to seek protection from arrest, a common step under Pakistani law.
Sanaullah, the interior minister, was referring Wednesday to an incident after Khan's ouster, when the former cricket star turned Islamist politician addressed a gathering of supporters.
At the gathering, Khan waved the document in question, describing it as "proof" that he was threatened and claiming that his ouster was a conspiracy between his opponents and the United States. Pakistan's military, Washington and Sharif's government have all denied any conspiracies against Khan.
The document that Khan waved was apparently a diplomatic correspondence between Asad Majeed, Pakistan's then-ambassador to the United States, and the Ministry of Foreign Affairs in Islamabad, according to Azam Khan, a former secretary to Imran Khan and one of scores of his followers who have abandoned him in the wake of the May violence.
The content of the document, dubbed Cipher, has not been made public. Azam Khan, in a statement to court earlier on Wednesday said the document was about Imran Khan's visit to Moscow, which coincided with Russia's invasion of Ukraine in February 2021.
He also said the former premier had "manipulated the official secret document" despite being advised not to do it. When Azam Khan later asked for the document back, he said he was told it was lost.
Sanaullah said the government would have to recover the Cipher from the former premier as he believes Imran Khan still has it.
"It's a crime to reveal official secrets," said Sanaullah.
Khan later Wednesday dismissed the government's planned charges as another one of its "feverish attempts to implicate me in any case just to get me disqualified and jailed" and said he would expose "the whole Cypher drama" on Thursday.
"I will share the uncensored details of how this conspiracy unfolded," he tweeted. "I assure you it will be more gripping than any drama on tv."
Separately on Wednesday, Khan appeared before a court in Islamabad, which extended his bail terrorism-related cases until July 26.
On Monday, dozens of Khan's followers quit his Pakistan Tehreek-e-Insaf party to launch their own ahead of parliamentary elections expected later this year. The defections were a major "political rebellion" against Khan ahead of the vote.