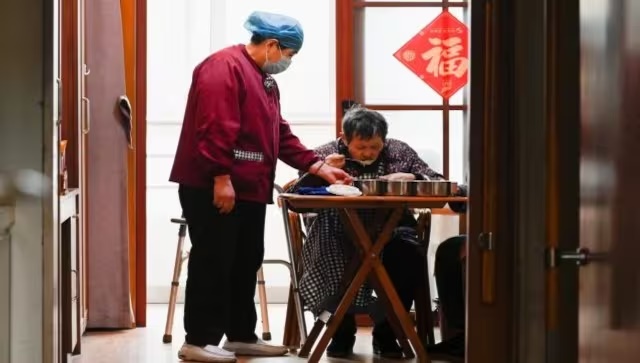 New Delhi: China's number of working people has fallen by more than 41 million in the past three years, reflecting both the coronavirus pandemic's toll on the economy and a decline in the working age population, according to a report.
Some 733.5 million Chinese people were employed in 2022, reported Bloomberg, citing the country's statistics bureau. That's down from 774.7 million in 2019, added the report.
The data reflects a rapid rise in the number of people retiring, likely raising pressure on Beijing to accelerate unpopular plans to raise official retirement ages.
"The drop reflects factors such as higher youth unemployment due to the pandemic as well as a shrinking number of people in the classic age group of the working-age population," Bloomberg quoted Stuart Gietel-Basten, a demographer at the Hong Kong University of Science and Technology, as saying.
Gradual decline in population since 2012
Since 2012, China's population between the age group of 16-59 has been steadily falling. The number in the group decreased by 38 million during the past three years to reach 857.6 million, a substantially faster decline than in prior years.
Lu Feng, a labor economist at Peking University, told Bloomberg that Demographic change was the "driving factor" in 2022's employment drop as the population reaching the age of 60, a common retirement age in China, "increased dramatically."
Last year, 209.78 million Chinese were 65 or older, representing 14.85 per cent of the population, up from 200 million in 2021, according to census data.
In 2020, 36.6 million Chinese were aged over 80, but that figure is expected to rise to 159 million by 2050.
Due to the lifting of coronavirus curbs and a substantial decline in infections, China's economic development is anticipated to pick up this year.
As a result, the number of employed people in China "could rise this year as people return to the work force," Larry Hu, China economist at Macquarie Securities Ltd, told Bloomberg.
"It will remain on the structural downtrend due to the aging population," Hu added.
Even if life expectancy has increased, China's retirement age for men is still 60 and for women it remains 55. This hasn't changed in more than 40 years. Due to the baby-boom that occurred in China in the 1960s, many workers in the 16–59 age range will retire during the course of this decade.
According to the report, the country's ruling Communist Party has listed retirement age reform among its key economic tasks for the year. More detail on reform plans may be provided this month, when the annual government work report is presented at the National People's Congress — an annual meeting of China's rubber-stamp parliament.
The strength of public opposition to any changes was highlighted last month, when a research report from Citic Securities forecasting a rise in the retirement age for women starting in 2025 sparked widespread criticism online.
Workforce has become urbanised
China's workforce has also become significantly more urbanised over the last decade, according to China's statistics bureau, a trend economists see as positive for economic growth. About 63 per cent of workers were employed in urban areas last year, up from 50 per cent a decade previously.
China's workers are becoming more productive, too. Labor productivity — defined as gross domestic product produced per worker — increased by 4.2 per cent in 2022, the statistics bureau said. That has slowed, though, from rates of around 6 per cent per year reported in the 2010s.
Yu Jiadong, a vice-minister of human resources and social security, told a briefing on Thursday that the decrease in China's working age population was driven by rising numbers of retirees, adding that China has "the largest population and labour force of any developing country."