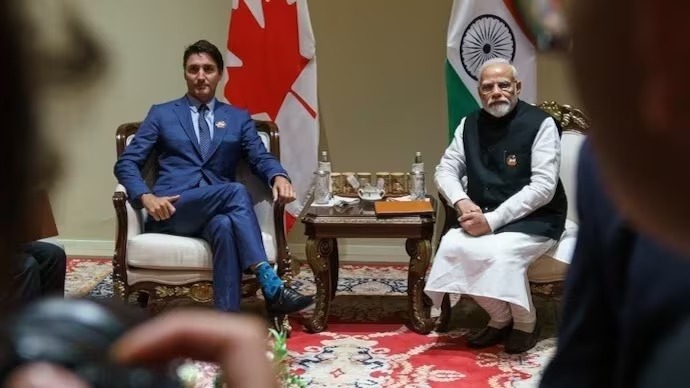 Diplomatic relations between India and Canada have soured following Canadian Prime Minister Justin Trudeau's allegations that the Indian government was involved in the killing of a Sikh separatist leader on Canadian soil. Amid this, many Twitter accounts have been spreading disinformation about domestic unrest caused by this, adding fuel to the fire.
A team discovered a coordinated effort on social media to spread this disinformation from Twitter accounts with Pakistani ties.
VIDEOS OF SIKH PROTEST
An old video of protests by Dal Khalsa, a Sikh organisation with a history of advocating for Khalistani separatism, was widely shared. Allegedly, this protest was a reaction to Trudeau's allegations.
On September 19, around 6 pm, a Twitter account called "@IntelPk_", operating under the name "The Intel Consortium", was the first to post this old video clip, falsely suggesting ongoing protests in Amritsar. The tweet claimed, "Protests have erupted outside the RAW office in Amritsar in response to the tragic killing of Hardeep Singh Nijjar in Canada. Sikhs are passionately chanting slogans in support of Khalistan."
Another Pakistan-based Twitter account @Ishahmaad was also identified as part of the network spreading this particular narrative. Soon after, multiple accounts amplified this video, highlighting coordinated efforts to shape and influence public opinion on social media platforms. Instances like these raise suspicions of foreign interference and manipulation within the ongoing social media narrative.
The Pakistan-based Twitter account "South Asia Index" has been accused of disseminating misleading information to the international community.
On September 19, the account claimed that the White House supported the allegations Canada made, that Trudeau briefed US President Biden on the matter, and that Western leaders may soon issue a joint statement about it.
Contrary to the claims, there are no credible reports confirming the existence of any joint statement from "Western leaders".
Another account (@SAHR_Watch), the South Asian Human Rights Watch, which claims to represent a nonprofit organisation based out of London, called for the West to "draw a line in the policy of appeasement to the Saffron terrorism." It praised Justin Trudeau for not pushing the issue under the rug.
However, its old posts show causal interaction with Pakistani Twitter accounts in a local dialect. In another old post, this purported London-based NGO was even seen wishing Pakistan on its Independence Day with a poster of Muhammad Ali Jinnah. "There is no power that can undo Pakistan," it wrote on August 14, 2020.
OTHER FALSE NARRATIVES
The Twitter account "@Dalitofficial", under the alias Prakash Kumar Bheel, has been deleted after claiming that Sikh security personnel were replaced at Rashtrapati Bhavan and that the Indian Army denied leave requests to Sikh soldiers. However, this claim was swiftly debunked by the India Today Fact Check team.
The Twitter account "@dintentdata" identified the user "@Dalitofficial", who claimed to be a Rajasthan-based teacher and Dalit activist, as a Pakistani account. In the past, the Twitter handle "@Dalitofficial" used to be "@Imranbajwapk", and it promoted Pakistani political agendas in Urdu at the time.
The dissemination of misinformation originating from Pakistan is a recurring issue that India has grappled with in the digital age. Such instances often involve fake social media profiles attempting to construct false narratives during critical moments.