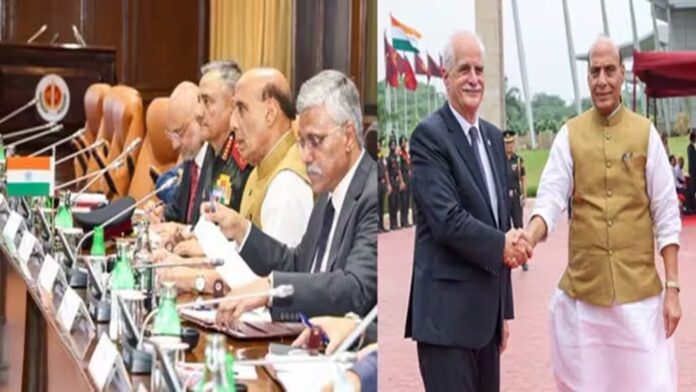 Argentina's Army is poised to undergo a significant upgrade as it embarks on a mission to bolster its military capabilities. Recently, a crucial step was taken with a Letter of Intent (LoI) signed between Argentina and Hindustan Aeronautics Limited (HAL) for the procurement of approximately 20 Light and Medium Utility Helicopters.
Additionally, Defence Minister Jorge Taiana's visit to India resulted in the signing of a memorandum of understanding and a training agreement, further enhancing bilateral cooperation in the defence sector.
During his four-day visit to India, Defense Minister Jorge Taiana held crucial meetings with his Indian counterpart, Rajnath Singh, to discuss ways to strengthen the defense partnership between the two nations. The signing of the memorandum of understanding and training agreement aims to facilitate joint activities for officers and cadets of the Armed Forces of both countries, fostering a closer bond between Argentina and India.
Helicopters as a Priority

Argentina's keen interest in acquiring helicopters from HAL reflects its commitment to modernize its Army's aerial capabilities. While the specific number of helicopters remains undisclosed, the acquisition would undoubtedly bolster Argentina's military readiness. The helicopters under consideration could potentially complement and enhance their existing fleet.
Light Combat Aircraft (LCA) vs. Alternatives
While Argentina has expressed interest in procuring helicopters, the Light Combat Aircraft (LCA) from India remains a subject of deliberation. Reports indicate that the LCA's integration of some British components might pose a challenge. However, Argentina continues to explore viable alternatives, including the Chinese JF-17 Thunder combat aircraft and F-16 aircraft offered by the United States and Denmark.
Exploring BrahMos Missile Technology
As part of his visit to India, Defense Minister Jorge Taiana met with authorities of the BrahMos missile company, for its supersonic cruise missile. The meeting provided insights into the missile's manufacturing, variants, production capabilities, research, and potential areas of collaboration. Such engagements foster mutual technological advancements in the aerospace sector.
Reinvigorating the Argentina-India Defence Commission
The Argentina-India Defense Commission was established in 2019 after a delegation from India's visit to Buenos Aires. Despite the initial establishment, significant progress had been elusive until now. However, with the recently concluded visit, the negotiations with India have been revitalized, signifying a renewed commitment to deepen defence ties.
As Argentina inches closer to realizing its military modernization goals, it is poised to forge a robust defence partnership with India, fostering mutual growth and security in the region.