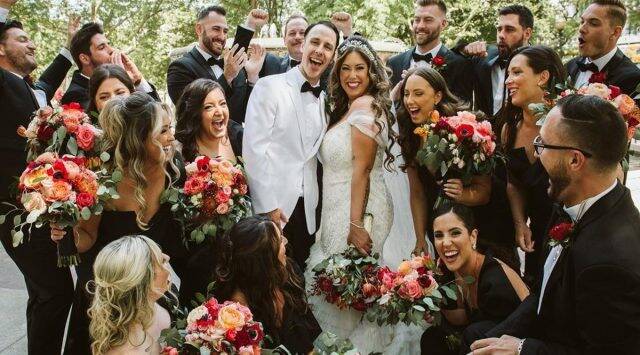 American rapper Eminem's eldest daughter Alaina Scott married Matt Moeller on Friday in an outdoor wedding in Detroit, with close family members in attendance, People Magazine reported.
Alaina Scott took to Instagram and shared pictures from her marriage on Monday. She wrote, "June 9, 2023 simply one of the best days of my life in this lifetime and in the next, my soul will always find yours. "
Alaina and Matt were photographed kissing on a rooftop and then again in a lift. They also hugged beside a vintage car, flashed their wedding rings, shared their first dance and posed with their wedding party, which included Eminem's other daughter, Hailie Scott, who served as one of the maids of honour.
Alaina looked stunning in an embellished, mermaid-style gown with off-the-shoulder draping and an over-the-top tulle train for the special occasion. Her wavy brown hair was accessorised with a bejewelled headband and a long veil, and she wore a deep red lip that matched her warm-coloured florals.
Moeller wore a white tuxedo jacket over black pants, while the rest of the wedding party, bridesmaids and groomsmen wore all black. According to Page Six, Moeller proposed to Alaina in December 2021, after more than seven years of dating.
Meanwhile, Hailie, Eminem's younger sister, got engaged to Evan McClintock, her longtime boyfriend, in February. Hailie was born in 1995 to Eminem and his ex-wife Kim Scott. In the early 2000s, he legally adopted Alaina, whom he refers to as Lainey. Her mother, Kim's sister, battled drug addiction and died of a suspected overdose in 2016, as per Page Six.
Stevie Scott, Eminem's third child, is 21 years old and has two biological parents: Kim and the man she dated between her two marriages to the Grammy winner, Eric Hartter.
During the exes' reconciliation, Eminem legally adopted Stevie in 2005. Hartter is said to have died in 2019. Stevie, formerly Whitney, came out as non-binary in August 2021.