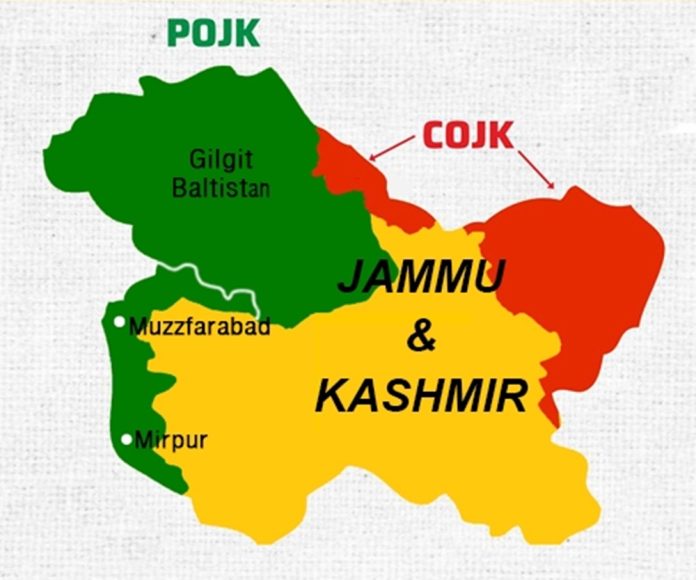 A few days ago, many disturbing videos started pouring in from the Gilgit-Baltistan region, part of Pakistan-occupied Kashmir (PoK). There was a slew of mothers who were forced to sell their children to meet the household expenses and a bunch of youth who were indulging in violent protests against the Pakistani state. There was also a video from a rally where people were shouting "open the road to Kargil so that we can go to India". All these videos had one common theme, people of Pak-occupied Kashmir are frustrated with the government and do not see any future in that country.
These people are rightly placed in protesting against Pakistan even if by violent means. At a time when the entire country is battling serious economic turmoil, these people are suffering at a much bigger scale than an average Pakistani. While a sense of dystopia has dawned upon PoK, on the other hand, in complete contrast to this situation is the Indian side of Kashmir. A sense of optimism has now replaced the earlier tense environment that used to prevail in the valley. As per the people of Kashmir, it is no longer a region infested with terrorism and militancy but an engine of India's economic growth and geopolitical ascendency. This is an unthinkable change that has been made possible by the repeal of Article 370 from Kashmir.
In 2019, when the Modi government ended the special status of Kashmir in order to make it a part of the mainstream, it faced a lot of flak from various quarters. The sceptics had termed it as a draconian move that would end the privileges that Kashmiris had enjoyed to date. Before the repeal of Article 370, Kashmir had a separate constitution, a state flag and considerable autonomy in internal administration. It also provisioned that no non-Kashmiri person would be able to acquire land in the region. However, what the naysayers were considering as privileges had long become an albatross around the neck of the Kashmiris. Even as the rest of India was courting globalisation and receiving considerable investment from across the globe, Kashmir was stuck in a time-wrap with aazadi calls, stone-pelting and participation in the funeral of terrorists being the only pastime for the youth to avail.
In my own experience with brilliant young scholars from Kashmir, I often noticed how they looked at shiny infrastructure in New Delhi with a twinkle in their eyes. They wanted similar benefits for their home region but the special status became an obstacle instead of an enabler. Pointing to this, Home Minister Amit Shah has often reminded us that Article 370 was supposed to be only a temporary provision in the Constitution. The fact that it was stretched for many decades thereafter reflects poorly on the previous governments.
Interestingly, repealing 370 was one of the first decisions that Shah had taken a few months after becoming the Home Minister of India after the 2019 elections. At that time, he was heavily criticised for taking the 'special rights' of the Kashmiri people away. Some people had even gone to the extent of accusing the government of orchestrating a forced displacement of the Kashmiris. They opined that Kashmir would no longer retain its original character as people from other states would be settled in the region. But just 4 years later, the turn-around in the Kashmir story has proven how wrong they were.
From a place known for terror attacks and frequent disruptions, Kashmir has emerged as a favoured tourist destination. So much so that Julia Morley, chairperson and CEO of Miss World Organisation, was in town recently to announce her plans to make Kashmir the host of the next edition of Miss World pageant in December 2023. There was a time when the only events that were organised in Kashmir were related to Islamist propaganda against the Indian state but today, Kashmir is finally finding a place on the world map for all the right reasons.
The locals credit Kashmir's preference as a tourism destination to G20. According to them, the hosting of key G20 meeting in the region has sparked a flurry of inquiries and interest in the tourism sector. The big message that has gone out is that Kashmir is no longer unsafe. It is now open for business where everyone is equally welcome. The infrastructure push by the Modi government in Kashmir has been nothing short of a miracle for the region's economy. It includes a Rs 100 crore tunnel project at Panthyal in Ramban district which has given a new lease of life to the apple industry, by giving it a safer route for commute in a landslide-prone region.
Also important is the Udhampur-Srinagar-Baramulla Rail Link which was originally conceived in 2002 but will be completed only in 2025. Once completed, it will elevate India's image globally for creating infrastructure in some of the highest regions in the world. Then there are other projects in the pipeline that include the electrification of villages, construction of higher education institutions, housing projects and development of tourism facilities such as the Baramulla-Kupwara-Leh Himalayan circuit. It is said that every per cent of real GDP spent on infrastructure has the potential to deliver even more than twice the amount of growth in an economy. It is then anyone's guess what Kashmir's economy will look like in the days to follow.
The early signs of economic resurgence have already started to show. Kashmir has not only become a preferred tourism destination but also a preferred investment destination. According to Lieutenant Governor Manoj Sinha, more than 80,000 crore worth of investment proposals have been received by Kashmir with investments worth Rs 25000 crore already being implemented on ground. Interestingly, the first international investment that Kashmir has received is from Dubai-based Emaar group. It is quite ironic that gulf countries which once saw Kashmir from the prism of pan-Islamism are now looking at it as an investment destination. The credit for this turn-around in Kashmir's image goes to the vision of PM Modi as well as the firm resolve of Home Minister Shah who despite many tactics by the militant-intellectual complex did not budge.
It looks like the testing times are now over for ordinary Kashmiris. As videos from Kashmir keep on lighting our timelines on X (formerly known as Twitter), with sounds of musical concerts, glimpses of business exhibitions and ground-breaking ceremonies of new projects, we must not forget the first crucial step that made it all possible — the repeal of Article 370.