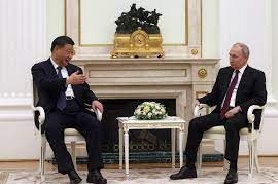 The Kremlin said on Monday that talks between Russian President Vladimir Putin and his Chinese counterpart Xi Jinping were still continuing after almost four hours.
"The conversation is still going on," Kremlin spokesman Dmitry Peskov said, according to the RIA news agency.
Putin told Xi in a televised meeting earlier that he had looked at China's proposals on how to resolve the conflict in Ukraine, adding that the two would have an opportunity to discuss Beijing's ideas.