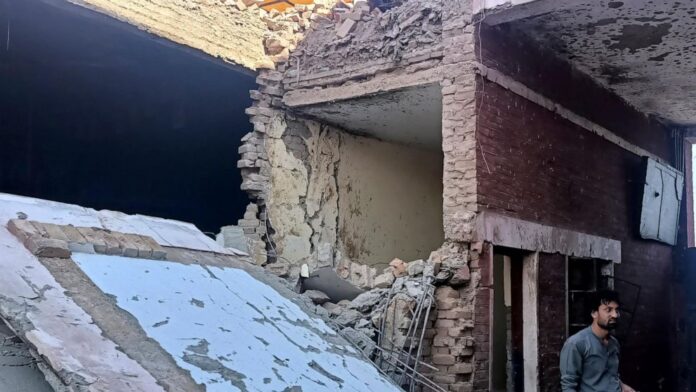 PESHAWAR, Pakistan — Two suicide bombers attacked a sprawling compound housing a police station and government offices in northwest Pakistan on Thursday, killing at least four police officers and wounding 11 other people, police and rescue officials said.
The attack occurred in the Bara neighborhood bordering Afghanistan, provincial police chief Akhtar Hayat said. Rescuers said part of the compound collapsed after the bombing, burying a police officer whose body was later retrieved.
The explosive vest worn by one of the suicide bombers detonated when police opened fire after coming under attack, Hayat said.
A total of four officers were killed and eleven others were wounded, hospital officials said.
Gunshots were heard after the bombing, said Bilal Faizi, a spokesperson for the provincial emergency service, and an exchange of gunfire followed. The wounded people included police officers and civilians, officials said.
Prime Minister Shehbaz Sharif condemned the attack. In a statement, he praised the police officers, saying they "thwarted the evil intentions of the terrorists by stopping the suspects and risking their lives."
The outlawed Tehreek-e-Taliban Pakistan, or Pakistani Taliban, claimed responsibility for the attack in a statement.
The attack came hours after the Pakistani Taliban fatally shot two police officers and wounded two others in an overnight gun attack at a roadside checkpoint in the city of Peshawar.
The gun attack took place in Regi Model Town, area police chief Arshad Khan said. A search was launched for the attackers, who fled in the darkness, he said.
The Pakistani Taliban also claimed responsibility for the attack in Peshawar.
The two attacks came two days after a suicide car bomber targeted a truck carrying security forces in Peshawar, wounding six soldiers and two civilians.
The Pakistani Taliban are a separate group but an ally of the Afghan Taliban. They have become emboldened since the Taliban seized power in Afghanistan in August 2021 as U.S. and NATO troops were in the final stages of their pullout from the country after 20 years of war.
The Pakistani Taliban have been demanding stricter enforcement of Islamic laws in Pakistan, the release of their members from government custody and a reduced military presence in Pakistan's former tribal regions. Pakistan's military last week warned the Afghan Taliban of an "effective response" by government forces if they fail to stop harboring militants who plot cross-border attacks from Afghanistan.
The army chief, Gen. Asim Munir, issued a stern warning last Friday after two militant attacks killed 12 Pakistani soldiers in the country's southwestern Baluchistan province, which also borders Afghanistan.