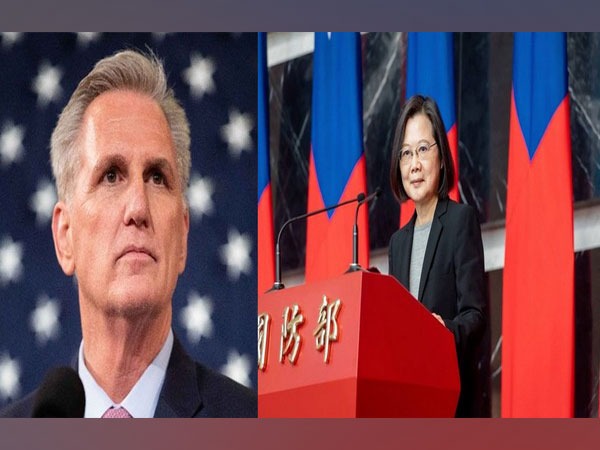 Washington [US], April 4: Amid repeated warnings from China, US House Speaker Kevin McCarthy is set to meet Taiwan President Tsai Ing-wen on Wednesday (tomorrow), CNN reported.
The anticipated meeting between the two leaders is seen as something China extremely disapproves of and has repeatedly shown opposition to.
The California Republican will host a bipartisan meeting with Tsai at the Ronald Reagan Presidential Library in California, according to a notice from McCarthy's office sent early on Monday. The bipartisan group will include Rep. Pete Aguilar of California, a member of the Democratic leadership, and the chairmen of the select committee on China, among others.
Tsai would meet with McCarthy, a report published on Monday by Taiwan's official Central News Agency also confirmed, which cited the island's presidential office.
Earlier in March, the US State Department said that China has 'overreacted' to Taiwan President Tsai's visit to the US.
US Department of State Principal Deputy Spokesperson Vedant Patel said that the transits of the Taiwan President are consistent with the longstanding policy of Washington.
The statement of Vedant Patel comes after the Chinese spokesperson for the Taiwan Affairs Office of the State Council said that China firmly opposes Tsai Ing-wen's planned "transit" visit to the US to meet US officials and will take resolute countermeasures in such an event, CGTN reported. Taiwanese President Tsai Ing-wen on Wednesday embarked on a 10-day visit to Central America, which will include transit in the US.
Responding to a question regarding China announcing that there would be countermeasures if Taiwan President meets US House Speaker, Vedant Patel said, "I would reiterate what I said at the top, that transits of the United States are based on longstanding US practice consistent with our unofficial nature of relations with Taiwan.
"There is no reason to take countermeasures. There's no reason for Beijing to turn this transit, which is consistent with longstanding US policy, into something it's not or to overreact. As I said previously, we oppose any unilateral changes to the status quo from either side. We don't support Taiwan's independence, and we continue to expect that cross-strait differences be resolved through peaceful means," he added.
Meanwhile, Chinese Foreign Ministry Spokesperson Mao Ning in a press conference in the last week of March said, "China firmly opposes any form of official interaction between the US and the Taiwan region. We firmly oppose any visit by the leader of the Taiwan authorities to the US in any name or under whatever pretext."
According to the statement released by the Chinese Foreign Ministry, Mao Ning further said, "We firmly oppose the US' having any form of contact with the Taiwan authorities, which violates the one-China principle. China has repeatedly protested to the US side on Tsai's so-called stopover in the US."
Taiwan has never been governed by the Chinese Communist Party, but Beijing claims it is part of its territory and seeks "peaceful reunification" with Taiwan.
Notably, tensions started between China and Taiwan after the US House of Representatives Speaker Nancy Pelosi travelled to Taiwan in August last year.
China raised objections to Pelosi's visit to Taiwan, which China claims as part of its territory. China announced military drills around Taiwan over Pelosi's visit to the island.