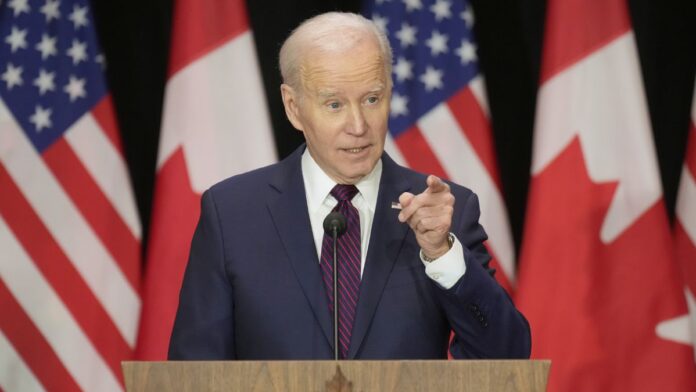 Ottawa [Canada], March 25: US President Joe Biden has said that the US does not seek conflict with Iran but will respond "forcefully" to protect its personnel, a day after a US contractor was killed and six Americans were injured in an attack blamed on groups affiliated with Iran in Syria.
Biden visited the neighbouring nation of Canada this week where the US President and Canadian Prime Minister Justin Trudeau discussed the progress made under the February 2021 Roadmap for a Renewed US-Canada Partnership.
"And to make no mistake: The United States does not — does not, I emphasize — seek conflict with Iran, but be prepared for us to act forcefully to protect our people," Biden said while addressing the media in a joint statement with the Canadian President Justin Trudeau on Friday (local time).
Before beginning his address, President Biden said that his national security team was on the way over there about the attack in Syria on Thursday.
"An Iranian-backed militant group used an unmanned aerial vehicle to strike one of the US facilities, causing several American casualties. One of our citizens tragically died in that attack," Biden said.
He further added that US had ordered an immediate response. And the US military forces carried out a series of airstrikes in Syria on Thursday night targeting those responsible for attacking the US personnel.
"My heart and deepest condolences go out to the family of the American we lost, and we wish a speedy recovery for those who are wounded," he added.
"I'm also grateful for the professionalism of our service members who so ably carried out this response,"
He further said that the US is going to continue to keep up its efforts to counter terrorist threats in the region, in partnerships with Canada and other members of the coalition, to defeat ISIS.
"Through NATO, we are ensuring that we can meet any threat," he added.
He further said that the United States, NATO, the G7, the Quad, the ASEAN, Japan and Korea are all working for global security and will fight any threat.
Canadian Prime Minister Justin Trudeau added to Biden's statement that interference by authoritarian governments, like China, Iran, and others, is a challenge to democracies.
On asking that would there be a higher cost if Iran kept targeting Americans, "We are not going to stop," Biden replied.
The president's remarks marked his first public comments since the US carried out a strike Thursday evening on Iranian facilities that the Pentagon said were used by groups affiliated with Iran's Islamic Revolutionary Guards Corps.
The response came after a suspected Iranian drone struck a facility housing US personnel in the country, killing an American contractor and wounding five US service members.
On Friday, another US service member was injured but in stable condition following a rocket attack near oil and gas fields known as Conoco in the vicinity of Deir Ezzor in Syria, a US official confirmed.
"On the evening of March 24th, two attacks targeted U.S. and coalition forces in Syria. At 10:39 p.m. Syrian local time, multiple rockets targeted coalition forces at Mission Support Site Conoco," the official said.
The official said a second attack occurred "at approximately 11:23 p.m. Syrian local time when three one-way attack unmanned aerial vehicles targeted Green Village. Two of the three unmanned aerial vehicles were struck down by coalition air defense systems."
The attack on Green Village – a US base in northeast Syria – did not result in injuries but did leave one building damaged, the source said.
Earlier Friday, 10 rockets had targeted Green Village, where some of the 900 US troops in Syria are based. There were no injuries to US or coalition personnel, and no damage to facilities, the Pentagon said in a statement. One rocket, however, missed the coalition facilities by five kilometers and hit a civilian home, injuring two women and two children, a CENTCOM statement said.
The number of casualties from the US airstrike is still being determined, the official said.
The Syrian and Iranian governments have not publicly commented, but Iran's state-run Press TV cited a military source in Syria saying "the resistance groups reserve right to respond to the American attack and will take reciprocal action," as per reports.
The Biden administration has carried out airstrikes against militias affiliated with Iran on multiple occasions following previous attacks on US facilities in the region.
In February 2021, Biden's first known military action was to carry out strikes against Iranian-backed militias after rocket attacks on US troops in Iraq. And in August, the US struck a group of bunkers used for ammunition storage and logistics support by Iranian proxies in Syria, after rockets landed near another US facility.