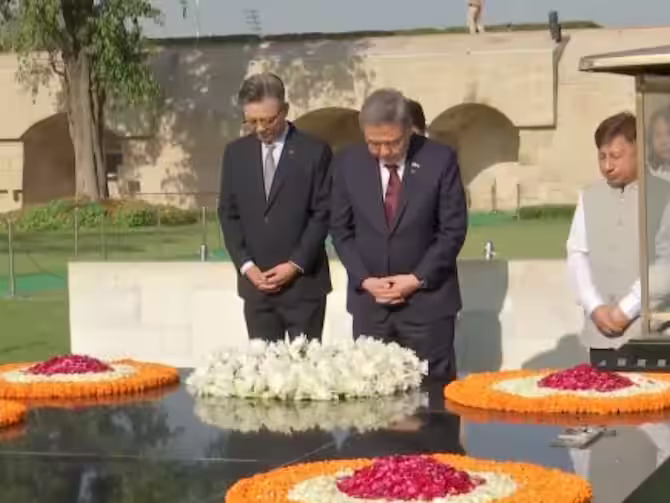 New Delhi [India], April 8: South Korea Foreign Minister, who is on a 2-day state visit to India, paid tribute to Mahatma Gandhi at his memorial in Rajghat in New Delhi on Saturday.
After laying a wreath, Park Jin also signed visitor's book at Rajghat.
Calling Mahatma Gandhi's spirit of Satyagraha "noble", the minister said he had always cherished his teachings, advocating democracy and human rights. He added that it was 27 years ago when he visited India for the first time.
"I visited India 27 years ago, it was my first to India. I always cherish his (Mahatma Gandhi) noble spirit of Satyagraha," the Foreign Minister of South Korea said.
"I hope we can pursue contributive diplomacy together with India, which is Korea's special strategic partner to contribute to freedom, peace and prosperity to the world," he added.
South Korea Foreign Minister Park Jin's visit to India comes as the two countries mark the 50th anniversary of their diplomatic relations.
The official spokesperson for the Ministry of External Affairs (MEA), Arindam Bagchi, on Friday welcomed Park Jin to India, saying his visit will help strengthen India-South Korea Strategic Partnership.
External Affairs Minister S Jaishankar and his South Korean counterpart on Friday held discussions on taking forward India-South Korea Special Strategic Partnership.
"Glad to welcome @FMParkJin of Republic of Korea on his first official visit to India," Jaishankar tweeted on Friday.
"Our discussions today will take forward our Special Strategic Partnership," he further wrote.
Park on Friday said South Korea would like to upgrade its existing successful partnership with India and focus on trade, investment and supply chain stabilisation in manufacturing sector and also critical minerals.
The South Korean Foreign Minister on Friday also called on Vice President of India Jagdeep Dhankhar.
In an exclusive interview with ANI in which he dwelt on a range of subjects — from India as a 'soft powerhouse' to the viral 'Naatu Naatu 'song from the movie 'RRR', which won as Oscar this year, Park Jin on Friday said he was happy that the Korean embassy here has paid special attention to the movie and that both the countries need much wide cultural exchange.
"Naatu Naatu dance is really popular in Korea. I saw the movie myself which is a fantastic movie and story. I think it was extraordinary and I am very glad that our embassy has given special attention to Naatu, Naatu and the movie. They demonstrated music, singing and dancing to the Indian public which I think is a great way to communicate with each other," the Minister said.
"I love Bollywood movies, I saw 3 idiots and Chennai Express. I think we need a wider cultural exchange between the two countries especially among the young generation to understand each other and to appreciate India's culture and vice versa," he added.
On the strategic partnership between the two countries, Park said that it is mutually beneficial.
"Korea and India have a special strategic partnership. This is very special relationship through which we can work together with the same vision towards the future and I think that we should make full advantage of this special relationship for our mutually beneficial relationship in the future".
Expressing optimism about India's G20 Presidency, the visiting Foreign Minister said that South Korea would be very happy to work with India.