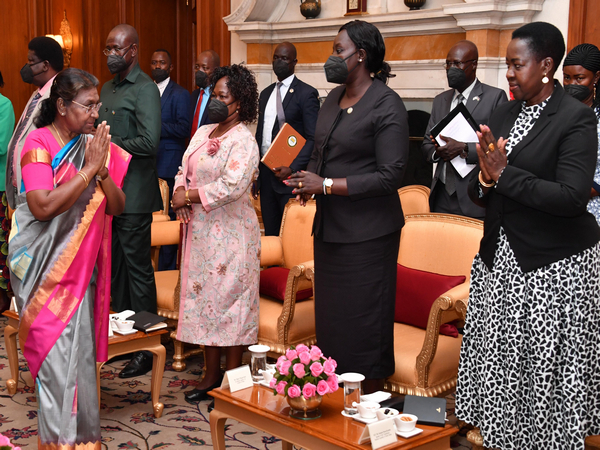 New Delhi [India], April 5: A parliamentary delegation from South Sudan, led by the Speaker of the Transitional National Assembly, Jemma Nunu Kumba, on Wednesday called on President Droupadi Murmu at Rashtrapati Bhavan.
Welcoming the delegation to India, the President said India and South Sudan enjoy cordial and friendly relations. She said India is proud to be a major troop contributor to the UN Peace keeping Missions in South Sudan, read a release from Rashtrapati Bhavan.
India, in January 2023, deployed a platoon of women peacekeepers in Abyei on the border of Sudan and South Sudan as part of the Indian Battalion in the United Nations Interim Security Force (UNISFA).
Murmu added that apart from Peace Missions, Indian soldiers are playing an important humanitarian role, and contributing to furthering relations between the two countries.
The President said India is determined to be a reliable development partner for South Sudan. She expressed confidence that the youth of South Sudan would take advantage of the training and capacity building opportunities provided by India's ITEC and ICCR scholarship programmes, added the release.
Murmu said South Sudan can benefit from India's experiences in parliamentary democracy in its ongoing political process, including the drafting of a new Constitution. She further said that India would extend its full support to South Sudan in this process.
South Sudan gained independence from Sudan in 2011. Since its independence, It has suffered ethnic violence and civil war, ethnic massacres and killings of journalists.
The UN Security Council, by its resolution 1990 of June 27, 2011, responded to the urgent situation in Sudan's Abyei region by establishing the UNISFA. The Security Council was deeply concerned by the violence, escalating tensions and population displacement.
The operation has been tasked with monitoring the flashpoint border between north and south and facilitating the delivery of humanitarian aid, and is authorised to use force in protecting civilians and humanitarian workers in Abyei.
UNISFA's establishment came after the Government of Sudan and the Sudan People's Liberation Movement (SPLM) reached an agreement in Addis Ababa, Ethiopia, to demilitarise Abyei and let Ethiopian troops monitor the area.