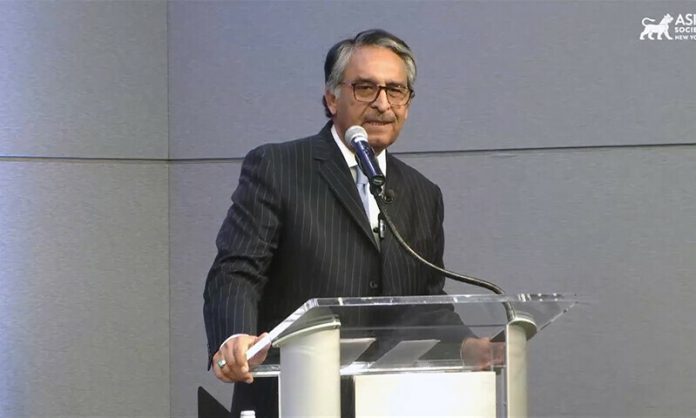 Interim Foreign Minister Jalil Abbas Jilani on Wednesday said Pakistan's "positive outreach and peace overtures", including the opening of the Kartarpur corridor for visa-free visits from the Indian Sikh community, have been met with negativity.
"Pakistan desires peaceful and cooperative neighbourly ties with India," he said in a speech at the Asia Society conference in New York. This is one of the several events that the foreign minister is attending in the lead-up to the United Nations General Assembly.
He and caretaker Prime Minister Anwaarul Haq Kakar are there to represent Pakistan.
The foreign minister said that India's illegal actions in India-occupied Jammu Kashmir and the "abhorrent human rights violations" against innocent Kashmiris at the hands of Indian security forces have "further deteriorated relations" between the two countries.
"Worsening religious extremism in India, especially against Muslims has further complicated the situation," he stated.
Jilani said that in such a complex environment, "India's belligerence and anti-Pakistan theatrics for domestic elections" are taking the two countries further away from the objectives of regional peace and stability and calling for peaceful constructive dialogues on all outstanding issues in Jammu and Kashmir.
Afghanistan
FM Jilani stated that Pakistan had the greatest stake in an Afghanistan that has peace within and with its regional and international partners.
"This objective lies at the heart of our efforts to directly engage with the Afghan interim government, as well as cooperate with [the] international community on Afghanistan," he said.
"We are hosting close to four million Afghan refugees in Pakistan and this is something we have been hosting for almost four decades. Afghan authorities and the international community continue to work to ensure that these Afghan refugees, whenever the situation settles down, go back to contribute to the economic development of their own country, which is Afghanistan," Jilani stated.
"This is something that we feel really proud of because the number of refugees that we have hosted over the last several decades, that is perhaps unprecedented anywhere in the world," he added.
"We also share the international community's concern over the human rights situation in Afghanistan, especially issues related to women's rights, girls' education, and women's employment," the interim FM stated.
He stated that the Pakistan government will continue to raise the issue with the Afghan administration but suggested that the international community should "delink aid from political considerations".
"We believe that instead of coercive measures, engaging the Afghan interim government is much more likely to deliver results. Equally important is to avert a humanitarian crisis in Afghanistan. For that purpose I think delinking aid from political consideration holds the key in this regard," he stated.
On terrorism, he stressed that Pakistan condemned all forms of it, including state terrorism and state-sponsored violence against religious minorities. However, the FM stated that "we (Pakistan) reject any attempt to politicise the issue of terrorism by linking it with certain countries, communities, region and religion".
"The entire global community is the victim and we have to act together to uproot this menace," he said.
Speaking in reference to the cross-border violence from Afghanistan, Jilani asserted that Pakistan's biggest threat is from the banned Tehreek-i-Taliban Pakistan and Islamic State Khorasan Province (ISKP) who are using Afghan soil to launch attacks against Pakistan.
"We remain closely engaged with the Afghan interim administration on this issue, while we are committed to fighting and defeating the terrorists," he said.
"We wish to highlight that the terrorist outfits trying to gain a foothold in Afghanistan should be treated as a threat to the neighbourhood and the entire international community," he added.
Ukraine
While speaking on the Ukraine war, FM Jilani stated that Pakistan's position was dictated by Pakistan's "belief in [an] amicable resolution of conflicts and respect for the UN principles and territorial integrity and sovereignty".
"We will continue to play a constructive role to help end the war and mitigate the suffering of the Ukrainian people," he said.
"We hope that peace will prevail to allow people of both Russia and Ukraine to enjoy its dividends," he added.
He also stated that mitigating the impacts of the Ukraine-Russia crisis on global food and energy security is critical and hoped for early resumption of the black sea grain initiative.