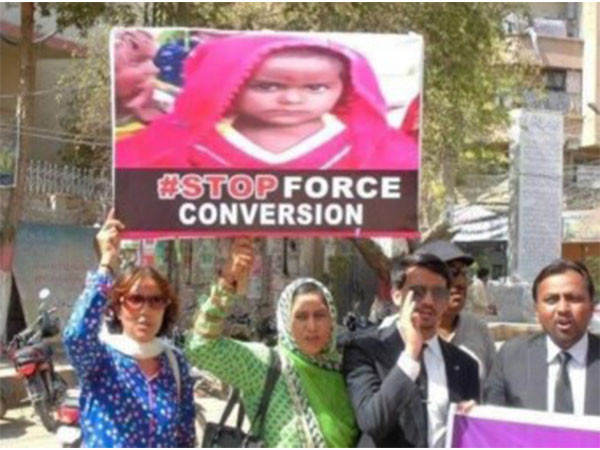 Islamabad: Thousands of people from different minority communities in Pakistan on Thursday took out a protest rally in front of the Sindh Assembly against forced conversions.
During the rally, they raised slogans against forced conversions, prayed for Issac Samson, who has been missing since February 29, 2012, and put up banners of Hindu girls who had been abducted and forcibly converted to Islam.
The media recently reported that target killings of minorities continue unabated in Pakistan.
A Christian man was recently shot dead in Peshawar, Khyber Pakhtunkhwa Province on Saturday, in what officials say is the second incident of target killing of minorities in the last 24 hours, reported The Khorasan Diary.
According to police, Kashif Maseeh was gunned down by armed motorcyclists on his doorstep. On Friday, a Sikh shopkeeper was gunned down in Peshawar in a similar manner. There have been no respoorasan Diary.nsibility claims for the attacks.
Sikh Minority shopkeeper Dayal Singh was killed by gunmen in the Dir Colony of Peshawar. Peshawar Police said that Dayal Singh was sitting at his shop when unidentified motorcyclists killed him and fled around 3 pm on Friday.
Minorities have faced continuous violent attacks in Pakistan. A Pakistani Hindu doctor Dr Birbal Genani became a victim of target killing near Layari in Karachi while returning home from his clinic on Thursday, Dunya News reported.
Former Karachi Metropolitan Corporation (KMC) senior director of health and eye specialist Dr Birbal Genani was shot dead by unknown assailants in Karachi on Thursday, Geo News reported.
Last week, Hindu shopkeepers were assaulted in Pakistan for allegedly "violating the Ramzan Ordinance" by eating, Pakistan based The Express Tribune newspaper reported.
The police officer in a video that went viral on social media, was seen roaming the Ghotki district with a stick in his hands. The police officer thrashed Hindu restaurant owners including Hindu men who were reportedly preparing biryani for delivery orders in the local market.
Meanwhile, Sindhi Hindus carried 15 points to the Sindh government to ensure the protection of Hindus in the province.