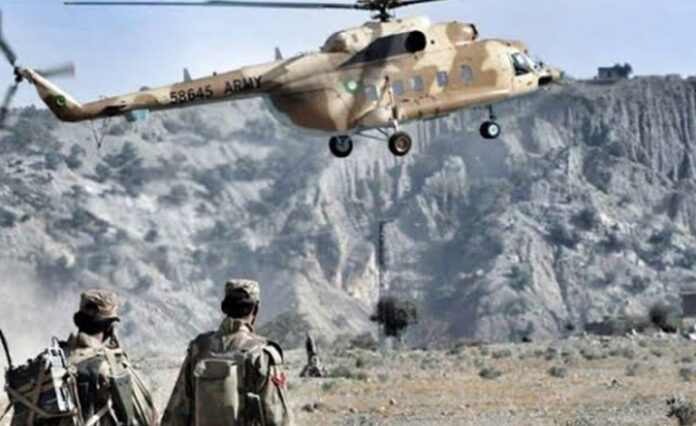 Military operations were reportedly launched in different areas of Kahan district of Balochistan
According to reports, the Pakistan Army is conducting an operations in different areas of Kahan, Gurandani, Ketghi, Sart-aaf and Menha-wadh. As per local sources, Pakistani forces tortured people were and set houses on fire. However, no casualties have been reported so far.
Military officials have not commented on the incident yet.
Meanwhile, Pakistan Army reportedly carried out a military operation in the mountain range of Kalat district of Balochistan on Thursday. The operation was launched in Narmuk and surrounding hills. The residents of the area told TBP that they have witnessed the convoys of the forces in the area. Later the locals also reported armed clashes. However, the government authorities have not yet commented in this regard.
It is to be noted that unannounced military operations have been reportedly underway in different parts of Balochistan. The media wing of the Pakistan Army, the Inter-Services Public Relations (ISPR) had recently claimed to have killed six Baloch "pro-independence" fighters during a military operation in Panjgur.
Later, a Baloch "pro-independence" armed group, the Baloch Nationalist Army (BNA) confirmed the news of the death of six fighters. Mureed Baloch, the spokesman for the group said in a statement: "Our and fellow Balochistan Liberation Front (BLF) fighters were on a routine patrol at Parom Anjir Koh area of ​​Panjgur when they were confronted by the occupying Pakistani army along with local death squad members, which led to a long skirmish. In this long and bloody battle, the occupying forces and death squad members had to bear heavy loss of life and property. While a fighter of BNA, Sajid Baloch alias Sagaar was martyred." Five other fighters of the BLF were also among the martyred, Mureed Baloch said.
He disclosed the names of the fighters in his statement saying that "Captain Zahoor Hammal alias Bali, Akbar alias Hammal, Second Lieutenant Sajid Mehmood alias ​​Sameer, Sabir Qadir alias Tahir and Ata alias Nasir embraced martyrdom in the defence of motherland." The Balochistan Liberation Front (BLF) confirmed the reports of the clashes and loss of its five members.
A few days earlier, military operations in and around Quetta, the capital of Balochistan continued intermittently, with reports of locals being detained and their livestock being damaged by the Pakistan army.
Meanwhile, two fighters of another armed group, the Baloch Liberation Army (BLA) were also killed during a military operation in Noshki area of Balochistan earlier this week. According to local resources, the military gunship helicopters took part in the operation after a drone strike. BLA also confirmed the loss of its two fighters during the military operation.