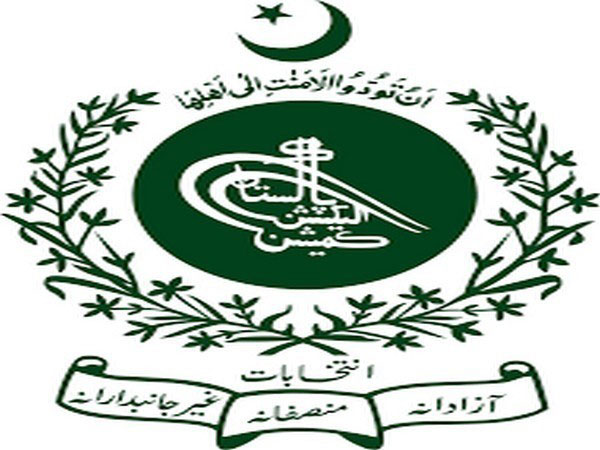 Islamabad [Pakistan], April 9: The Election Commission of Pakistan (ECP) is likely to receive the funds for the Punjab provincial election by Monday.
The ECP spokesperson also confirmed that they still have not received the funds.
The Election Commission has demanded 21 billion rupees from the government for the elections in Punjab and the Supreme Court has ordered the Finance Ministry to give the funds to the Election Commission by April 10.
Earlier, on November 30 2022, the Economic Coordination Committee approved the Election Commission's demand of 15 billion out of 47 billion which was not for the general election. Previously, the Supreme Court announced the verdict on the delay in Punjab and Khyber Pakhtunkhwa elections case.
The apex court ordered elections in Punjab on May 14 and declared the Election Commission of Pakistan's March 22 decision to delay polls till Oct 28 as void.
On April 5, the Election Commission of Pakistan (ECP) announced May 14 as the revised date for the Punjab Assembly polls, the Dawn reported. The decision came after the Pakistan Supreme Court's (directives that the elections be held on May 14 instead of the previously notified date of October 8.
The revised schedule was issued in a notification which cited the Supreme Court's order in response to a petition filed by the Pakistan Tehreek-e-Insaf (PTI) against the ECP's decision to postpone the elections in Punjab from the originally decided date of April 30 to October 8.
Elections to the Punjab Assembly have been due since January this year when the house was dissolved. In early March, the ECP had proposed that the elections be held between April 30 and May 7 and subsequently, President Arif Alvi accepted the commission's recommendations by setting April 30 as the date for the polls.
The date was officially notified by the electoral watchdog on March 8, but it was later deferred to October 8 in another notification issued by the ECP on March 22.
The commission in the latest notification issued today said it was recalling its March 22 notification and partially modifying the March 8 notification.
Under the revised schedule, the last date for the filing of appeals against the decisions of the returning officer rejecting or accepting the candidates' nomination papers has been set as April 10.
The appellate tribunal can decide these appeals by April 17 and a revised list of candidates has to be issued by April 18.
The last date for the withdrawal of candidature and the publication of another revised list of candidates has been set as April 19, following which symbols have to be assigned to candidates by April 20, according to the Dawn.
The elections, in line with the SC's directives, are to be held on May 14.