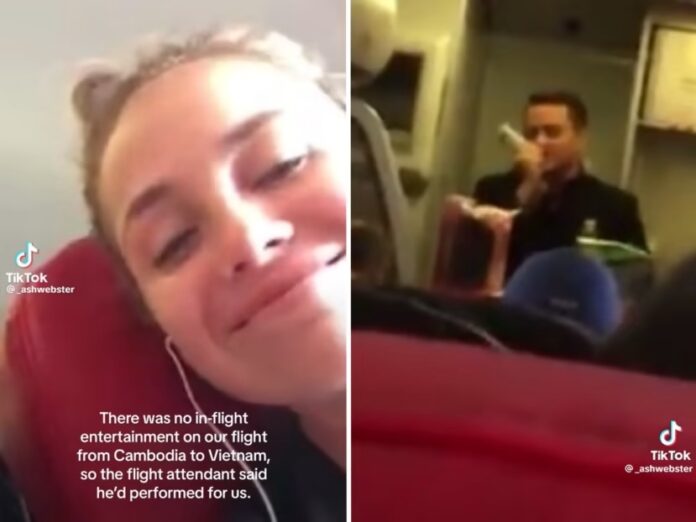 VIETNAM — A video of an AirAsia flight attendant passionately singing Perfect by English singer-songwriter Ed Sheeran to entertain passengers on a flight has gone viral on TikTok, leaving netizens in stitches.
The 58-second clip, uploaded by user "_ashwebster" on July 4, has garnered at least 772,200 views and 930 comments as of Friday (July 14).
The TikTok video caption read: "There was no in-flight entertainment on our flight from Cambodia to Vietnam, so the flight attendant said he'd perform for us."
In the video, the flight attendant was seen belting the 2017 pop ballad over the plane's public address system to entertain passengers.
Halfway through the song, the flight attendant asked the passengers to "show (him) some hands" while waving his hand around, prompting some of them to cheer for him.
The video elicited positive reactions from netizens, many of whom found the flight attendant's method of entertainment highly amusing.
"I would have been unconscious from laughing," said one TikTok user, whose comment attracted more than 11,000 likes.
"He didn't have to bless you guys like this. AirAsia hosts are some of (the) funniest people I've met," another user remarked.
Others found the flight attendant's dedication to serving his passengers "sweet".
One user wrote: "This is so sweet. Why is everyone so quiet? I would've been hyping that king up."
"That's actually so sweet," another commented.
Netizens also poked fun at the flight attendant's in-flight performance.
One user wrote: "No way, Ed Sheeran was on your flight?"
"It was his moment of glory," another user said.
This is not the first time an AirAsia flight attendant has gone viral for their entertaining antics.
In 2017, AirAsia flight attendant Assraf Nasir went viral for dancing to Britney Spears' Toxic while walking up and down the aisles of an empty Airbus A330.
The video gained much attention that the chief executive officer of AirAsia Tony Fernandes reposted it on Instagram.
"Classic. AirAsia version of 'Toxic'. The talent in AirAsia never fails to amaze me. @assrafnasir is the best. Love it that staff can just have fun and be themselves," his caption read.
Another AirAsia stewardess went viral in 2017 for singing Jason Mraz's I'm Yours to entertain passengers who had their flight from Hong Kong to Bangkok delayed.