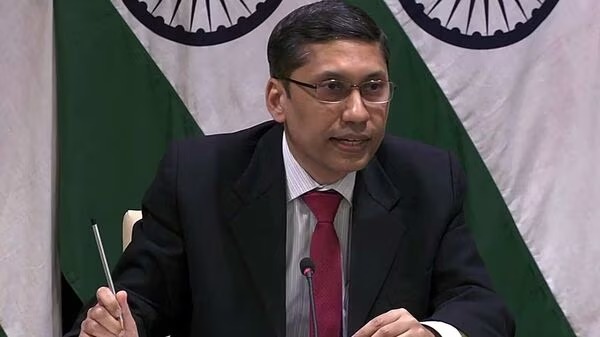 Days after Pakistan Prime Minister Shehbaz Sharif showed an intent to talk to India, the Ministry of External Affairs (MEA) said that it wants neighbourly ties with Pakistan but for such relationships, the atmosphere should be free from terror and violence.
MEA spokesperson Arindam Bagchi said, "We have seen reports regarding the comments by the Pakistan PM on this issue. India's clear and consistent position is well known that we desire normal relations with all our neighbouring countries including Pakistan. For this environment free of terror and hostility is imperative."
Earlier, on Tuesday, the Pakistan PM showed his willingness to talk with India and stressed that there is "nothing against anyone". He said that to build the nation, Pakistan was ready to hold talks with its neighbours.
Shehbaz Sharif said, "With our neighbours, we are prepared to talk to them, provided that the neighbour is serious to talk about serious matters on the table because war is no more an option. Pakistan is a nuclear power, not as an aggressor but for our defence purposes. We had three wars fought in the last 75 years. And what happened is it generates more poverty, unemployment and lack of resources to finance, education, health and well-being of the people."
Stressing that war is not an option, Shehbaz Sharif said, "…if there is any nuclear flashpoint, who will live to tell what happened? So (war) is not an option."
Since the formation of Pakistan, India and Pakistan's relations have consistently remained strained. India has consistently expressed concerns about Pakistan's support for cross-border terrorism, emphasizing that dialogue and terrorism cannot coexist.
Following the Indian government's decision in August 2019 to abolish Jammu and Kashmir's special status and bifurcate it into two Union territories [J&K and Ladakh], the Pakistan government, then led by Imran Khan, expelled India's ambassador to Islamabad and halted bilateral trade.