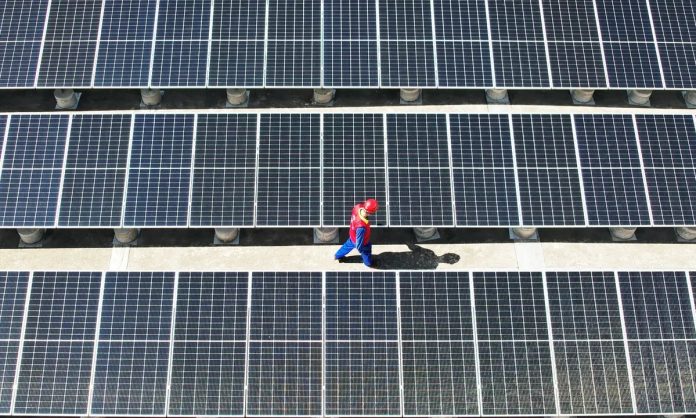 UK solar energy projects could be at risk of being "tainted" by forced Uyghur labour due to large-scale human rights abuses taking place in China, the government has been warned.
Foreign Affairs Select Committee chair Alicia Kearns has tabled an amendment to the Energy Bill – which MPs are set to debate today – calling for solar firms to prove their supply chains are clear of slave labour.
Kearns posted on X, formerly Twitter: "We're calling for a clean energy transition, without Uyghur blood labour staining our countryside."
It comes just days after foreign secretary James Cleverly visited Beijing during which officials said he raised the "strength of feeling about the mass incarceration of the Uyghur people".
Xinjiang, the province of China home to the majority of the Uyghur Muslim population, is also home to up to 40 per cent of the world's solar grade polysilicon – essential for making solar panels for renewable energy.
Kearns' amendment is reportedly being supported by seven other committee members alongside senior backbench MPs, including former Tory leader Sir Iain Duncan Smith.
Sir Iain told City A.M.: "I have campaigned to have companies take responsibility for their supply chains and for failure to do so be made a serious offence. China uses slave or forced labour in a number of product areas."
In a letter to ministers, signed by 15 anti-slavery and advocacy groups, the Coalition to End Forced Labour in the Uyghur Region, known locally as East Turkistan, backed the proposal.
They wrote: "China is perpetrating human rights abuses on a massive scale in the Uyghur Region… [including] arbitrary mass detention of an estimated 1m to 1.8m to 1.8m people… re-education… mass surveillance, detention, family separation, sexual violence, forced sterilization and abortion, religious persecution, cultural erasure and forced labour".
The letter also warned that due to "systematic forced labour" there were "no valid means" for companies to verify that any workplace in the Uyghur Region is "free of forced labour".
Businesses, they said must assume any products linked to the area – which the solar industry is "heavily reliant on" – are at "high risk of being tainted by forced labour".
While the 15 human and labour rights organisations urged governments around the world to ban imported goods made with forced labour and diversify renewable energy supply chains.
And they called on "solar companies to exit the Uyghur Region at every level of their supply chains immediately".
A government spokesperson said they were already taking "firm action" on forced labour, adding: "This includes new guidance on the risks of doing business in Xinjiang, enhanced export controls, and the introduction of financial penalties under the Modern Slavery Act.
"Our Procurement Bill will also enable public sector contractors to reject bids and terminate contracts with suppliers which are known to use forced labour themselves or anywhere in their supply chain."