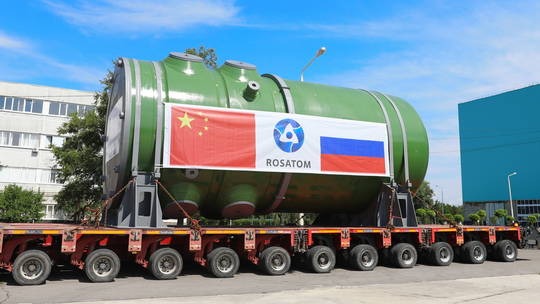 Russia has delivered some 1,700 tons of state-of-art nuclear equipment to China, including a reactor hull and four steam generators for the Tianwan nuclear power plant. The facility already has four older VVER-1000 water-water energetic reactors among its six operational units and is set to receive two more VVER-1200 reactors, which would make it the largest nuclear power plant in the world in terms of energy output.
The reactor hull arrived on Thursday at the construction site of the plant's Unit 7, located in coastal Jiangsu Province, after a two-month sea voyage from St. Petersburg. The four steam generators were delivered to the location a day before.
The equipment was manufactured at Volgodonsk, a river port that houses the nuclear engineering company Atommash, a subsidiary of Russia's state-owned nuclear energy giant Rosatom.
The VVER-1200 reactor is housed in a massive 13-meter-long, 4.5-meter-wide barrel-shaped pressure containment unit, which weighs 320 tons. Each reactor hull complements four steam generators, which convert heat energy into a form that can be harnessed by steam turbines to generate electricity. They are of similar size and weigh 340 tons each.
The Russian manufacturer was contracted in 2019 to make four VVER-1200 reactors for China's booming atomic industry. Last month, it completed another set of VVER-1200 equipment, destined for Unit 3 of China's northernmost Xudabao (Xudapu) nuclear power plant, currently under construction in Liaoning Province.
The reactor hull and steam generators for that station are currently en route to China as well. In the meantime, the plant reached an important milestone late July when the 740-ton protective steel dome for the Unit 3 building was completed and mounted.
The operation was done in a single phase, in contrast to all previous Russian nuclear projects, where the mounting of the dome required two phases. This streamlining of the process allowed the construction phase to finish six months ahead of schedule.
China currently has 24 nuclear power units under construction, according to state media reports. The Chinese contracts are a boon for Atommash, which is set to complete a record five sets of reactor equipment for both domestic and international customers this year.
It takes about two years to manufacture a VVER-1200 reactor set. The Russian company said it aims to complete the next two packages for the Xudabao and Tianwan plants in 2024.