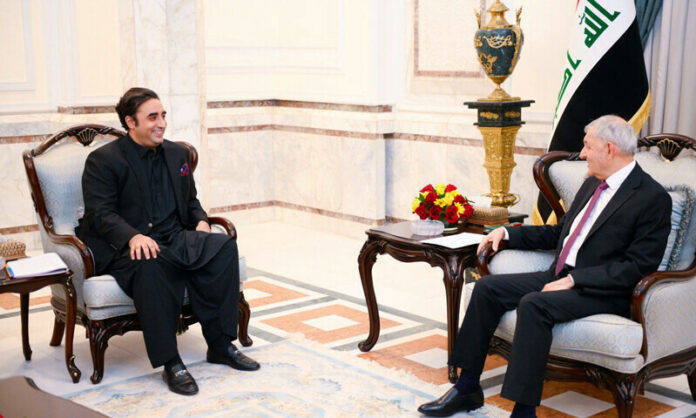 Pakistan and Iraq on Monday agreed to further strengthen bilateral ties as Foreign Minister Bilawal Bhutto-Zardari arrived in Baghdad on a three-day official visit.
In a statement, reports told that the "understanding" between the two countries was reached during a meeting between Bilawal and his Iraqi counterpart, Dr Fuad Hussein.
The state broadcaster quoted Bilawal as saying that "Pakistan maintains deep fraternal relations with Iraq".
"During the meeting, the two sides exchanged views on different aspects of diplomatic relations between Pakistan and Iraq," the report added.
In a tweet, Bilawal said he was delighted to meet Hussein and that he had a "wide-ranging discussion on all issues".
"I'm grateful to the government of Iraq for its support in opening of Pakistan consulate in Najaf," he added. The minister highlighted both sides signed important memorandums of understanding (MoUs) and resolved to unlock "huge potential in dynamic bilateral cooperation".
The Foreign Office (FO), meanwhile, said the two agreements were related to enhancing cultural cooperation, and visa abolition on diplomatic and official passports.
Reiterating the hope to strengthen bilateral ties in a joint press conference with Hussein, Bilawal said both countries "enjoyed decades-old ties and they always supported each other in the hour of need".
Later, Radio Pakistan reported that Bilawal also met Iraqi President Dr Abdul Latif Rashid in Baghdad.
The report said both dignitaries "appreciated the trajectory of bilateral relations and agreed to expand mutually beneficial cooperation".
Bilawal is undertaking his maiden visit to Iraq at the invitation of Hussein, who is also the Iraqi deputy prime minister.
Upon arriving in Baghdad, he was received by Iraqi Deputy Foreign Minister Mohammed Hussein Bahral Uloom, Pakistan's Ambassador to Iraq Ahmed Amjad Ali and other officials from the Pakistani embassy.
The FO shared photos of Bilawal arriving in Baghdad, being greeted by Iraqi officials and meeting with Bahral Uloom and Hussein.
The minister's trip to Iraq is the latter leg of his journey, after having attended a royal wedding in Jordan earlier at the invitation of the Jordanian royal family.
In an official statement released last week, the FO had said that the foreign minister would meet with the Iraqi leadership. According to the FO, "important agreements" would be signed during the visit.