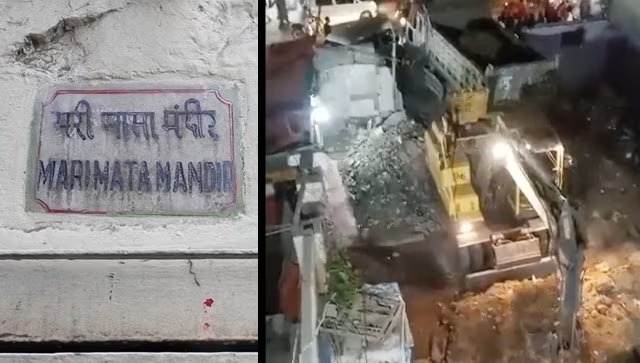 Atrocities against Hindu minorities continue in Pakistan unabated. Two Hindu temples, including 150-year-old shrine of Mari Mata located at Soldier Bazar in Karachi, were demolished over the weekend.
On Sunday, a gang of dacoits indiscriminately fired upon a Hindu temple in the southern Sindh province of Pakistan, which was closed during the attack.
As per the police, the assailants used rocket launchers during the attack. In response, a team of cops led by Kashmore-Kandhkot SSP Irfan Sammo swiftly arrived at the scene to bring the situation under control.
"They (dacoits) fired indiscriminately and fled when a police party reached the spot. We are conducting a search operation in the area," SSP Samoo said, adding that involvement of eight or nine gunmen in the attack is estimated.
"Fortunately, the rocket launchers used by the dacoits failed to detonate, resulting in no loss of life," said Dr. Suresh, a member of the Bagri community.
On Saturday, miscreants demolished Mari Mata temple while there was no electricity in the area.
A report by Dawn quoted locals saying diggers and bulldozers reached near the temple and razed the entire structure, leaving the outer walls and the main gate intact.
Police present to provide 'cover'
Residents alleged that Pakistan police vehicles were present in and around Mari Mata temple to provide "cover" to those operating the machines and demolishing the Hindu temple.
But why Mari Mata temple in Pakistan was demolished?
As per sources, the temple was razed by unknown builder to build a shopping plaza. The land was sold for Rs 7 crore to promoter.
Trustees and NGOs associated with the temple have also not come forward to object the demolition, sources said.
"The temple is said to have been built over 150 years ago. It covered about 400 to 500 square yards and there had been talk of land grabbers having their eye on it," Ram Nath Mishra, priest of another temple nearby said.
Reports, meanwhile, mentioned a Hindu community leader of the area, Ramesh, saying that the temple management was under pressure to vacate the premises for some time as the land had been sold to a developer on forged documents who wanted to build a commercial building on the plot.
The incident caused panic and fear among the Hindu community members living in Karachi.
'Alarmed by deteriorating law & order in Pakistan'
The Human Rights Commission of Pakistan said it was alarmed by reports of "deteriorating law and order in the districts of Kashmore and Ghotki in Sindh, where some 30 members of the Hindu community — including women and children — have allegedly been held hostage by organised criminal gangs".
"Moreover, we have received disturbing reports that these gangs have threatened to attack the community's sites of worship, using high-grade weapons," the commission said, calling on the Sindh Home Department to investigate the matter without delay.