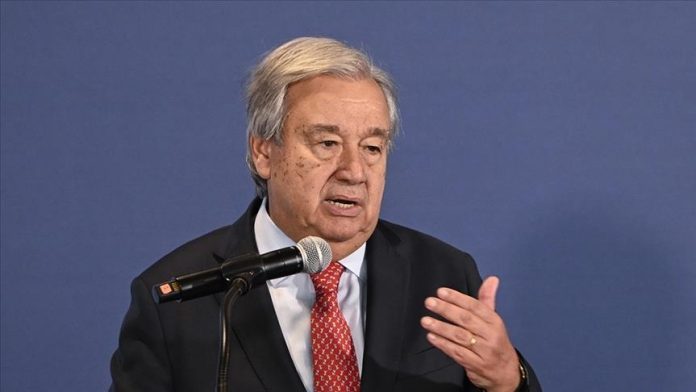 UNITED NATIONS: The United Nations has revived efforts to persuade the international community to fulfill the pledges they made last year to help Pakistan rebuild as the UN chief called the 2022 floods a 'litmus test' for climate justice.
Triggered by torrential monsoon rains, the 2022 floods submerged one third of Pakistan. The deluge affected over 33 million people and killed 1,700 or more. Nearly 8 million people were displaced, with many still living in tents and makeshift homes.
On Wednesday, the UN General Assembly convened an informal meeting in New York to review the implementation of its last year's resolution to help Pakistan rebuild, to increase aid and to keep up the political will to provide long-term support to Pakistan.
"We are here for the people of Pakistan," UN Secretary-General António Guterres, who visited Pakistan in August 2022, said in his keynote speech to the delegates in the UN's Trusteeship Council chamber. "I will never forget the climate-related carnage I saw. Lives, homes, livelihoods, schools, hospitals all obliterated."
Despite contributing less than one per cent of global emissions, Pakistan's people face a staggering 15 times higher risk of dying from climate-related impacts.
Underlining this disparity, the UN chief said, "Pakistan needs and deserves massive support from the international community" to recover and rebuild.
"Pakistan is a double victim of climate chaos, and of our outdated and unjust global financial system that prevents middle-income countries from accessing much-needed resources to invest in adaptation and resilience," he said.
In January 2023, the UN chief co-hosted an international conference on Climate Resilient Pakistan in Geneva. More than 450 attendees including private donors, international financial organisations, and government representatives from around 40 countries, participated. In the conference, Pakistan presented the "Resilient, Reco­very, Rehabilitation, and Reconstruction Framework" (4RF) and sought international support and long-term partnerships for its implementation.
The participants pledged $9 billion, a billion more than what Pakistan had expected, but so far only 40 per cent of those pledges have materialised.
Since then Pakistan has conducted a needs assessment, which estimates the flood damages at over $14.9 billion, the economic losses at over $15.2 billion, and the cost of reconstruction at over $16.3 billion. Mr Guterres noted that billions were pledged in the conference "but the vast majority was in loans. And Pakistan is still waiting for much of the funding".
"Delays are undermining people's efforts to rebuild their lives," the UN chief said, "while much of the water has receded, the needs have not".
Mr Guterres, however, noted that as of now 69 per cent of the $816 million UN appeal for immediate aid and protection has been funded. This was the amount sought for Pakistan's Floods Response Plan.
Other top UN officials also emphasised the need to continue supporting Pakistan's recovery and rebuilding efforts while urging all nations to slash carbon emissions and bolster early warning systems to protect nations from extreme weather.
Pakistan's UN envoy Munir Akram said the country was grateful for the solidarity and support displayed by the international community.
Noting that the UN Flood Response Plan has received $563 million, or 69 per cent, of the $816 million requested, the Pakistani envoy said, "We hope it will be fully funded".