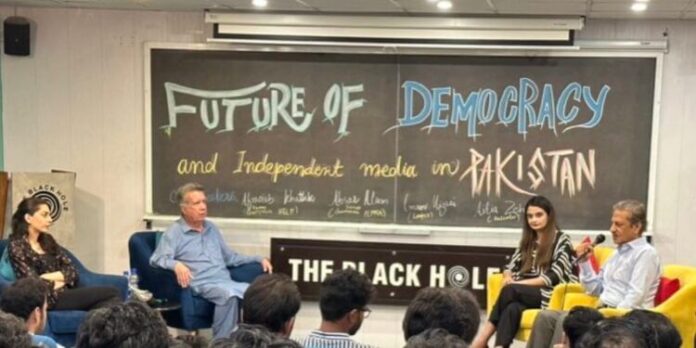 The session 'Future of Democracy and Independent Media' in Pakistan was organised by Dissent Today in Islamabad.
Senior journalist and former Pakistan Electronic Media Regulatory Authority (PEMRA) Chairman Absar Alam has revealed that as the PEMRA head he was asked by powerful quarters to take action against anchor Najam Sethi after he used the term "institutional corruption" (of the establishment) during one of his shows in 2016.
"When I refused to comply and asked them to lodge a formal complaint, treason and sedition cases were registered against Sethi and me across Pakistan," he added.
Alam expressed these views while addressing a session titled 'Future of Democracy and Independent Media' in Pakistan organized by Dissent Today in Islamabad on Friday.
Other speakers included former senator Afrasiab Khattak and activist Imaan Mazari. The session was moderated by journalist Ailia Zehra.
Absar Alam further said that DG ISPRs were acting as director news of all channels in the country in the lead up to the 2018 elections.
According to Alam, the riots that took place on May 9 following the arrest of Pakistan Tehreek-e-Insaf (PTI) chairman Imran Khan were the result of the establishment's own actions.
"Analysts who made young people think it was a revolution are also responsible for the May 9 violence," he said.
Former Senator Afrasiab Khattak spoke about the need for a new charter of democracy to end the establishment's interference in politics. "No party is currently asking for an end to the establishment's unconstitutional role in politics," he said.
Khattak added that a creeping coup began in Pakistan in 2014 and the establishment has since become stronger and is now occupying almost every sector in the country.
"Even the agriculture department is controlled by the establishment," he said, adding that politicians should decide if they want to save Pakistan or the Establishment.
Afrasiab Khattak further said that elections should be conducted on time, but the resurgence of Taliban and the threat it poses to anti-Taliban parties must also be addressed before we have elections.
He lamented that the mainstream has little concern for what happens in the peripheries which is why terror attacks that take place in Khyber Pakhtunkhwa go unnoticed.
Lawyer and activist Imaan Mazari spoke about the struggle of heirs of missing persons, saying that the families protest on the roads for their loved ones' recovery but to no avail. She added that trials of civilians in military courts are unfair and against democratic norms.
"Military court judges are not trained to do justice or even think rationally. They are military officers who are only taught to follow orders," said Mazari.
The event was open to the public and attended by a large number of young individuals who asked crucial questions to the panelists. Renowned author and physicist Pervez Hoodbhoy was also present at the session.