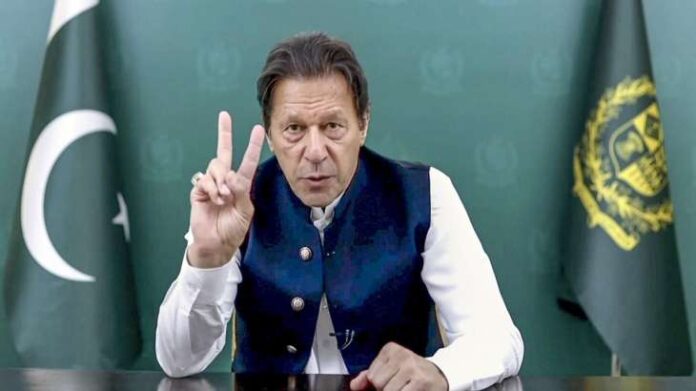 Anyone expecting chaos and mayhem on Pakistan's streets following the Pakistan Tehreek-e-Insaf leader Imran Khan's arrest on Saturday 5 August in Lahore must have been disappointed. There was silence and people went about their business.
This was not the case on 9 May or earlier in March when the cricketer-turned-politician's supporters took on the State in a manner that almost looked like a civil war situation. While on 9 May, military buildings were attacked, in March the PTI supporters threw petrol bombs at Punjab police to thwart their efforts to arrest the former PM. Later, the army and the government built a case and a narrative against Khan, accusing him of punishable rebellion against the state.
Delay in elections
The gagging and use of force that ensued has ensured that people dare not get out on the streets because if they did the dispensation escalate things—they will be accused of terrorism against the State. The recent civil court judgment in the Toshakhana case has aimed at diluting Khan's reputation as a politician fighting against corruption. The court has accused Khan of engaging in corruption as he allegedly mis-declared assets to the election commission and lied about selling state gifts.
However, neither the wording of the judgment nor the silence on the streets indicate any change in the mindset of Khan's supporters or the general observer. The arrest may, in fact, add to Khan's popularity, which is like a check that can only be cashed if there are free and fair elections in the country—an occurrence not expected any time soon. Khan had started his protest demanding early elections. But it is an unlikely event given that the Council of Common Interests (CCI), a body meant to resolve issues among the four federating units of the country, has approved the 2023 population census. It means that Pakistan's election commission will now delay elections as it will have to redraw constituencies based on the latest census. But the process of redrawing constituencies is fraught with issues and it will generate a new controversy. According to historian Yaqoob Bangash, any new seat in parliament added due to redrawing of constituencies will have to be approved by the National Assembly, which is impossible at the moment.  There are caretaker governments operating in at least two provinces (Punjab and Khyber-Pakhtukhwa) which means that a new law cannot be framed. For sure, any controversy will help Khan not dumb his reputation down.
While there is a lack of clarity regarding when elections will be held next, the more optimistic observers now feel it could be next year in March. The time between now and next year will probably be spent breaking down and pushing back Khan's support base and his party further. In any case, unless the higher courts overturn the current judgment and provide Khan some relief, he will remain disqualified from contesting elections. The Khan-friendly Chief Justice Umar Ata Bandial—who seems to have run out of his passionate defence of the PTI leader—is about to retire in September and a lot will depend upon the next man. Even if the higher courts become active, the process of providing relief in itself is arduous and would take time. It will not help Khan make it to the next parliament.
Pakistan army and Imran Khan
Political observers that I spoke with also believe that the man turning the political knobs in Pakistan right now is the army chief General Syed Asim Munir, who is not comfortable with the idea of holding elections until Khan's image is washed out considerably. Over the years, the Pakistan army has gained the experience of engaging in massive pre-poll control of narrative, but managing election day-rigging has become more difficult. The one hope that remains now is for friends of the establishment in the media to run a powerful campaign against Khan. One that could sell well among the public. Alternatively, Pakistan could see some miraculous turnaround in its economic fortunes in the next six months resulting in change in public perception.
Khan's popularity or notoriety will become a major issue now that the army has directly jumped into economic management more than ever before. The fact that the nature of Pakistan's army is changing fast, from an outward to an inward-looking force, will weigh in the ultimate balance. The economic performance of Pakistan and Khan's popularity may now be proportionally connected. The State's lack of performance will turn Khan more into a symbol of resistance. While a street protest of a popular scale is unlikely, the unhappiness and dissatisfaction with government(s)—which will have support of the army general headquarters—could grow. Hence, there are challenges on both sides.
Khan's return will depend on two factors.
First, if the future army leadership re-engages with him. Second, Khan's capacity to rebuild his party, which lacks an organised cadre that can survive the heat of election day activity. If he remains inconsequential in the next five years then electable candidates will shy away from him. To rebuild the ideological component of the party will then require a team that can withstand pressure from the state. Let's also not forget that he is now in his early 70s and one wonders how much energy will he have in the next five years after spending some time in jail.
On the other hand, Khan's future may also be tied to Pakistan's economic performance in the coming years. In case the economy does not improve, the sale of State assets or army's active engagement with agriculture does not reap dividends, or if it all adds to public discomfort, Khan will come to public memory. But until then, this is a testing period for Khan, which he must spend thinking about party organisation and his own political positions. This involves decisions like determining how much space should be given to the politically powerful military, which had become very powerful in his government, and how much of a political movement can be built by pointing a finger at foreign governments allegedly engaging in a conspiracy against his rule. He must also seriously think about reorganising his party.
Khan's absence from the political scene leaves Pakistan in a space where, if desired, its powerful stakeholders could now rethink its geo-politics without fear of being hounded by the PTI. Perhaps, the next government in Islamabad will use Khan's absence from active politics to be more confident in engaging with India.  The possibility has increased now since the country's economic planning will have other stakeholders too, especially Saudi Arabia and the Gulf States that have good links with both Pakistan and India.