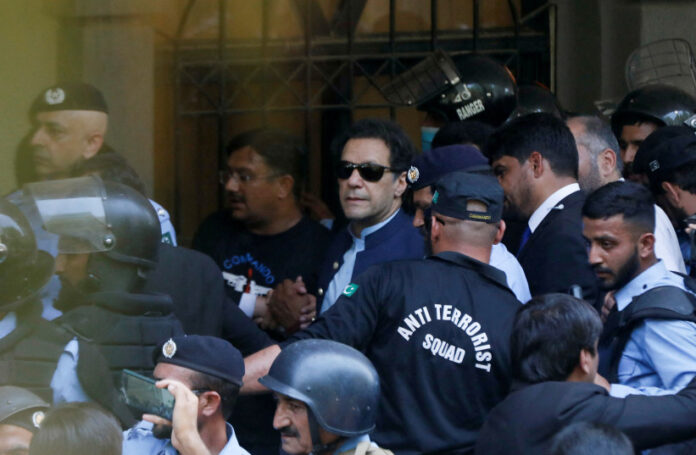 Pakistan's former Prime Minister Imran Khan has been found "guilty of inciting attacks" on military installations, including the Lahore Corps Commander House, an anti-terrorism court was told by the government prosecutor on Friday.
However, the ATC Lahore extended Imran Khan's pre-arrest bail in five terrorism cases till August 8.
"A special prosecutor on Friday told the ATC that a Joint Investigation Team (JIT) of Punjab police completed its probe into the May 9 attacks on military and state buildings and found Imran Khan guilty of abetment and other terrorism charges," a court official told.
Mr Khan appeared before the court amid high security.
Prosecutor Farhad Ali Shah said that Mr Khan is guilty of masterminding the May 9 attacks and his arrest is needed for collection of evidence.
He said that the Pakistan Tehreek-e-Insaf chief had led a campaign and incited the party workers against the Army before the May 9 attacks. That incitement led to the attack on the military installations, he said.
ATC Judge Abher Gul Khan extended the pre-arrest bail of Mr Khan till August 8 and directed the prosecutor to come up with more arguments on the next hearing.
Following the arrest of Imran Khan by para military Rangers unrest broke out in Pakistan on May 9 that saw torching and vandalizing of dozens of military and state buildings, including the Army headquarters in Rawalpindi and ISI building in Faisalabad.
Police arrested over 10,000 workers of PTI and over 100 are being tried under the Army Act.
Mr Khan denied masterminding or inciting the attacks stating that it was a well-planned conspiracy to oust its party from upcoming elections.
The military establishment managed to carve out two political parties — Istekham-i-Pakistan Party and PTI Parliamentarians — of the PTI as dozens of its leaders joined the new parties.