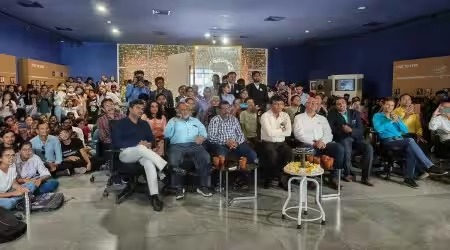 It is imperative to liberate Tibet from Chinese occupation for the security of India, Tibetan parliamentarian Dorjee Tseten said in Ahmedabad Wednesday. He added that all Asian countries are troubled by China's imperialist and regionalist policies.
Tseten, who is leading a parliamentary delegation visiting Gujarat cities, held an interaction with the students of Gujarat University Wednesday as part of the Tibetan Parliament-in-Exile's Tibet advocacy campaign in various Indian states. He is accompanied by fellow parliamentarian Tsering Lhamo.
He also called upon Indian leaders to impart knowledge on Tibet and its significance.
The two Tibetan parliamentarians emphasised it was imperative to liberate Tibet from Chinese occupation for the security of India as well.
"Countering China in Tibet in the current situation is a challenge. China is destroying Tibet's environment and natural resources and violating human rights. It is the source of rivers Satluj, Ganga and Brahmaputra on which the southern countries depend. Kailash Mansarovar should be liberated from China," stated an official release issued by Core Group of Tibetan Cause-India, an organisation formed for the Tibet movement representing the collective voice of Tibet Support Groups (TSGs) in India.
India has cultural, historical and security ties with Tibet whose geographical significance affects our future, said Amit Jyotikar, coordinator of Core Group of Tibetan Cause. "If China had not occupied Tibet, there would have been no border problem between India and China today. Tibet used to act as a buffer zone between India and China before it was occupied by China," he added.
The Tibetan MPs who followed their programmes in Vadodara from August 18 to August 20 are scheduled to attend similar programmes in Ahmedabad and Gandhinagar till August 24.