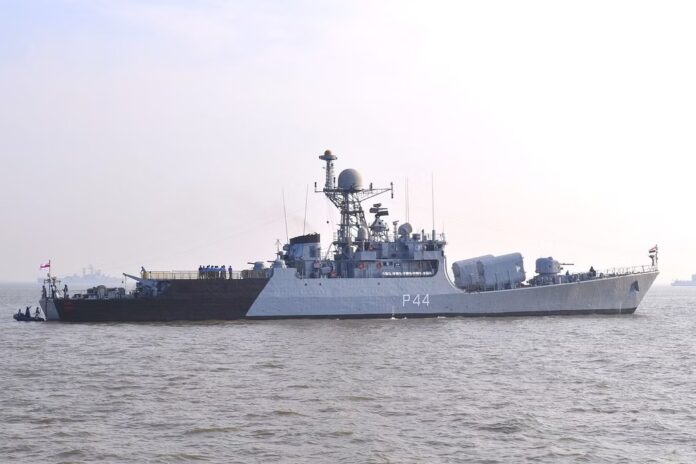 New Delhi: India gifted its in-service missile corvette INS Kirpan to Vietnam today in reflection of growing bilateral strategic and defence partnership amid common concerns over China's increasingly aggressive behaviour in the South China Sea.
This is the first time that India handed over a fully operational corvette to any friendly foreign country, officials said. Navy Chief Admiral R Hari Kumar, currently on an official visit to Vietnam, presided over the ceremony at Vietnamese deep water bay of Cam Ranh where the frontline warship was handed over to Vietnam People's Navy.
The Indian Navy said the ship has been handed over to Vietnam People's Navy (VPN) with complete "weapon complement".
"Today's handing-over ceremony symbolises the deep-rooted friendship and strategic partnership between India and Vietnam," Admiral Kumar said in his address at the event.
"What makes this occasion even more significant is the fact that this is the first-ever occasion that India is offering a fully-operational Corvette to any friendly foreign country," he said.
The Navy Chief said the transfer of INS Kirpan to the Vietnam People's Navy resonates with India's G20 vision of "Vasudhaiva Kutumbakam — One Earth, One Family, One Future."
Vietnam, an important ASEAN (Association of Southeast Asian Nations) country, has territorial disputes with China in the South China Sea region.
India has oil exploration projects in the Vietnamese waters in the South China Sea. India and Vietnam have been boosting their maritime security cooperation in the last few years to protect common interests.
"Today's event serves as a reaffirmation of our commitment to expand and deepen our defence partnership, not only bilaterally but also in the broader multilateral framework," he said.
Admiral Kumar hoped that INS Kirpan would continue to navigate the vast seas, "upholding the principles of freedom, justice, and international rules-based order to be the pillar around which a 'force for good' be built".
His comments come in the backdrop of China's increasing military muscle flexing in the South China Sea.
"As we entrust INS Kirpan to the Vietnam Navy, we do so with complete confidence in their ability to operate and maintain this magnificent vessel," the Navy Chief said.
"We are certain that they will harness its immense potential to safeguard their national maritime interests, contribute to regional security, and foster peace and stability," he added.
INS Kirpan was handed over to Vietnam after it was decommissioned from Indian Navy.
"On completing 32 years of illustrious service to the nation, Indian naval ship Kirpan has been decommissioned from the Indian Navy and handed over to VPN today," the Indian Navy said in a statement.
INS Kirpan, since its commissioning in 1991, has been an integral part of Indian Navy's Eastern Fleet and has participated in many operations over the last 32 years.
Manned by about 12 officers and 100 sailors, the ship is 90 metres long and 10.45 metres in width with maximum displacement of 1,450 tons.
"The transfer of INS Kirpan from Indian Navy to Vietnam People's Navy, symbolises the status of Indian Navy of being the 'preferred security partner in the Indian Ocean Region," the Indian Navy said.
INS Kirpan, an indigenously built Khukri-class missile corvette, was handed over to Vietnam in line with Defence Minister Rajnath Singh's announcement last month that India will gift an in-service missile corvette to the country.
INS Kirpan departed on her final journey under the Indian tricolour from India to Vietnam on June 28 and reached Cam Ranh, Vietnam, on July 8.