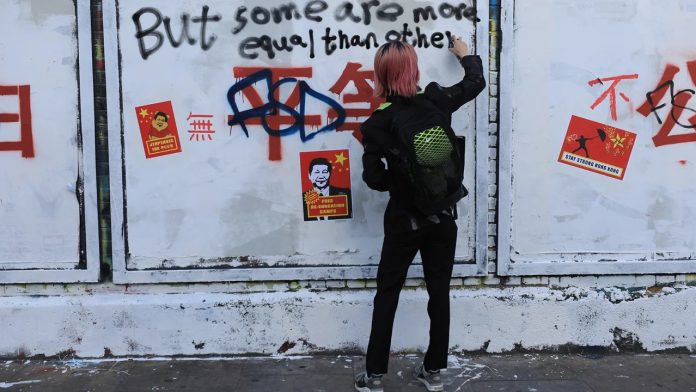 A graffiti wall in London's bustling street art hub of Brick Lane has become an unlikely canvas for protest messages against China's authoritarian rule, after it was whitewashed and painted over with propaganda slogans promoting Chinese Communist Party ideology.
The bright red slogans, spray-painted by a group of young Chinese artists over the weekend, consisted of 24 large Chinese characters outlining the country's "core socialist values."
The 12 values include "prosperity," "harmony" and "patriotism," as well as concepts like "democracy," "freedom," "equality," "justice" and "rule of law" – liberal philosophies familiar in the West, but their meaning and application differ greatly as defined by the Chinese Communist Party.
Endorsed by Chinese leader Xi Jinping, the slogans are a common sight in China, displayed on posters and billboards across the country and frequently featured on state television.
But their sudden appearance in east London – and the way the slogans wiped out existing art, including a tribute to a street artist who had died – shocked and angered the local artists as well as parts of the Chinese expatriate community living in Britain who are critical of Xi's rule.
The slogans also attracted a great deal of attention and controversy on social media, where the creators first documented and shared their work.
On Chinese social media, some supporters argued the young Chinese artists were exercising freedom of expression and applauded them for "exporting" Chinese culture and values. Critics accused them of destroying local street art and promoting Communist Party propaganda.
In Brick Lane, a cultural thoroughfare in London's East End famed for its curry houses and a vibrant art scene, the backlash was swift.
By Sunday, the slogans had been overlaid with a flurry of new graffiti that was deeply critical of both Xi and the Chinese Communist Party.
Above the word "equality," someone had written "But some are more equal than others," using a famous line from George Orwell's novel "Animal Farm." Others added "no" in front of the characters for "democracy" and "freedom."
Other messages decried the Chinese government's recent crackdown in Hong Kong, Xinjiang and Tibet, as well as the 1989 Tiananmen square massacre, an event that is highly censored inside China.