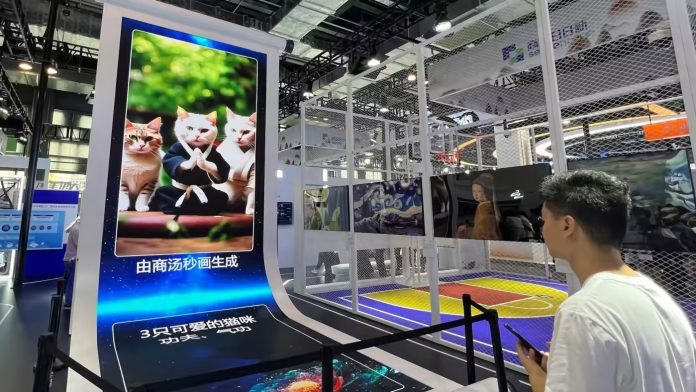 GUANGZHOU — China faces a shortage of millions of artificial intelligence professionals just as generative AI projects kick into full gear.
"Along with large tech companies, startups, financial firms and others are looking for superior AI talent," said Angus Chen, head of AI staffing at Shanghai-based recruiting firm ManGo Associates. "Many candidates receive offers from multiple companies, and some have decided to go with another company even after we spent months preparing to connect them with a particular business."
The most sought-after candidates are master's or doctorate degree holders in their 30s whose resumes include stints at companies specializing in large language models, the cornerstone of generative AI. Skilled AI workers can earn 1 million yuan ($137,000) a year, and Chen said some recruits have received offers of more than 3 million yuan.
Since the spring, large tech groups and other companies have announced they will work on developing generative AI. Beijing has started issuing approvals for AI services to operate under rules implemented on Aug. 15.
After search giant Baidu made its Ernie Bot available to the public on Aug. 31, the chatbot reportedly answered 33.42 million questions in the first 24 hours. That same day, AI developer SenseTime launched its SenseChat bot for the wider public.
This rush to release chatbots has fueled demand for specialists, elite or otherwise. Job postings in the AI content generation category, including those for algorithm engineers, ballooned 2.3-fold in the first half of 2023 compared with the year-earlier period, according to job search platform Liepin.
The average annual pay for those job postings exceeded 400,000 yuan, nearly doubling the 220,000-yuan average seen in the new energy vehicle field.
"AI content generation is expanding rapidly, and demand for talent will continue to grow in the future," said Liepin.
The Chinese government had predicted a shortage of AI workers well before the generative AI boom. In 2020, the human resources ministry released a report quantifying the shortfall at 5 million people at the time.
The supply of AI professionals could only meet 10% of the demand, the report said. Unless there are increased efforts to train AI workers, the shortage will grow to more than 10 million workers in 2025, according to the ministry.
The application of AI in a wide spectrum of industries is driving the worker shortage. China is expected to invest $38.1 billion on AI in 2027, according to U.S. market intelligence firm IDC, or about triple the spending in 2022.
AI investments will be especially heavy in the telecommunication and banking sectors, as well as in local governments, according to IDC.
Businesses have stepped up to answer the Chinese government's call to train AI talent.
Wang Haifeng, Baidu's chief technology officer, said in January that there has been an AI talent shortfall of 5 million to 8 million over the past few years, but the company has trained over 3 million though various cooperative efforts.
Despite these endeavors, many observers believe there is a shortage of millions of AI-skilled workers throughout industry as a whole, although the exact count depends on how one defines that job category.
China is on track to be short 4 million in AI talent in 2030, according to a report released in May by McKinsey & Co. The U.S. consultancy arrived at that number after foreseeing demand for skilled AI professionals grow sixfold from 2022 to 6 million workers, but the supply only reaching 2 million in 2030.
"Beyond 2030, our research suggests that the declining birth rate will further tighten the availability of AI talent, as fewer students will be entering university programs," wrote McKinsey.
There is uncertainty about how long the generative AI boom will last. It was only around 2019 that SenseTime was part of the "four little dragons" of startups that raised copious amounts of investment funds. The hype has since worn off amid red ink and other woes at the companies. Some in the media have recommended taking a wait-and-see approach toward the AI frenzy.
However, the demand for AI talent is expected to remain elevated for the long haul. In its report, McKinsey recommends "upskilling existing workers" and "diversifying talent sources" by looking for outside contractors.