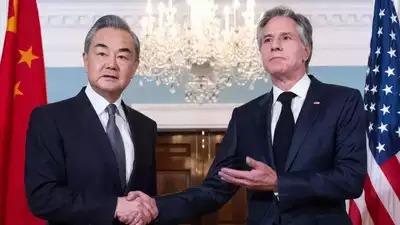 BANGKOK: A Chinese fighter jet came within 10 feet of an American B-52 bomber flying over the South China Sea, nearly causing a collision, the US military said, underscoring the potential for a mishap as both countries vie for influence in the region.
In the night intercept, the Shenyang J-11 twin-engine fighter closed on the US Air Force plane at an "uncontrolled excessive speed, flying below, in front of, and within 10 feet of the B-52, putting both aircraft in danger of a collision," the US Indo-Pacific Command said.
"We are concerned this pilot was unaware of how close he came to causing a collision," the military said.
China's foreign ministry put the blame on the US, suggesting the American aircraft was flying over the South China Sea as a deliberate provocation.
"The US military planes travelled thousands of miles to China's doorstep to flex muscle," said foreign ministry spokeswoman Mao Ning. The US military said that the aircraft was "lawfully conducting routine operations" ahead of the intercept Tuesday, but did not respond to questions Friday about specifically what the B-52 was doing over the South China Sea or whether it was with a group of planes.
Following that incident, US President Joe Biden renewed a warning that the US would be obligated to defend the Philippines, its oldest treaty ally in Asia, if Filipino forces, aircraft or vessels come under armed attack.
China reacted by saying the US has no right to interfere in Beijing's disputes with Manila.
The US military said that the incident will not change its approach.
Wang tells Blinken 'in-depth' dialogue can steady ties
The US and China have disagreements and need "in-depth" and "comprehensive" dialogue to reduce misunderstandings and stabilise ties, China's foreign minister, Wang Yi, said on Thursday, kicking off a long-anticipated visit to Washington. Standing next to US secretary of state Antony Blinken, Wang said the two countries share common interests and challenges that they need to resolve together. "Therefore, China and the US need to have dialogue," Wang said.