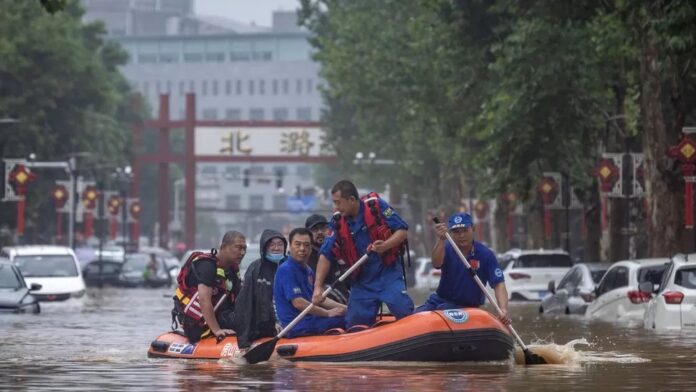 At least 11 people have died and 13 others are missing in torrential rains in Beijing as China braces for the third typhoon in as many weeks.
The remnants of last week's super storm Doksuri flooded Beijing for the fourth straight day on Tuesday even as another typhoon approached the eastern coast.
More than 50,000 people in the city have been evacuated so far, according to state media.
The flooding has hit several districts, disrupting train services and traffic.
At least a dozen people were killed in the Philippines and Taiwan as Doksuri passed through at the end of last week on its way to China.
Heavy rains are likely to persist this week, and flooding could worsen in northern regions around Beijing, Tianjin and Hebei province, the emergency management ministry has warned.
At least nine people have died in Hebei, officials say.
Relentless rain over the weekend broke daily precipitation records at 14 weather stations in Beijing and the northern provinces of Hebei, Shanxi and Shandong.
Chinese authorities have not announced an official toll of victims or reported how many are missing outside the capital city.
Military helicopters were deployed in the early hours of Tuesday to deliver emergency food supplies and ponchos to people stranded in and around a train station in the hard-hit Mentougou district in western Beijing, CCTV reports.
Around 150,000 households in the district are reported to be without running water.
Nearly 400 flights on Tuesday were cancelled and hundreds delayed at Beijing's two airports, according to flight tracker app Flight Master.
Footage shared online by residents in the surrounding Hebei province show swathes of land engulfed by floods.
Residents in several neighbourhoods in Hebei's Zhouzhou county have reportedly been trapped, some for almost 24 hours, as rescue workers are unable to reach them.
On Monday, state television published a clip of the dramatic rescue of a man clinging to an overturned car caught in raging floodwaters in Wu'an city, also in Hebei. The man and his car were pinwheeling down a flooded river before he was lifted to safety by a helicopter.
Like many parts of the world, China has been seeing extreme heat and rain in recent weeks, which some scientists have linked to climate change.
Doksuri made landfall in China's south-east Fujian province on Friday, triggering landslides and floods before moving north towards the capital. Hundreds of thousands of Fujian residents were evacuated.
Doksuri, which came a week after typhoon Talim, also led to mass closures of schools and workplaces across the province.
China's Meteorological Bureau said Beijing saw a deluge of about 170.9mm (6.7in) between Saturday night and noon on Monday, the equivalent of the average rainfall for the entire month of July.
There is little relief with typhoon Khanun on the horizon. It is expected to enter the East China Sea on Wednesday before moving to China's coastal provinces, Zhejiang and Fujian.