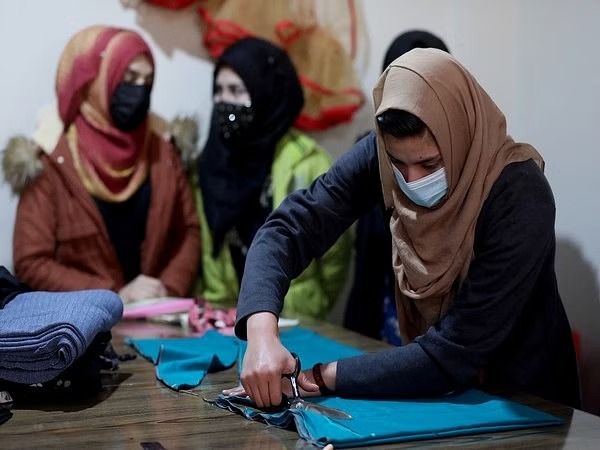 Kabul [Afghanistan], July 9: After schools and universities closed, many students in war-torn Afghanistan turned to training in tailoring, and have called on the Taliban to reopen schools.
Some of these girl students demanded that the de-facto authorities reopen the colleges and universities that were closed to female students in grades above 6.
In order to become self-sufficient at a time when the Taliban has snatched away their rights to attain basic education, these female students are busy learning how to sew in tailoring shops, as they think that working there will help them stay mentally healthy.
"We want the Islamic Emirate to open schools and universities to girls so that they can study like boys, and we should continue our studies," said a student, Maryam, as she deplored the restrictions put by the Taliban on women in Afghanistan.
Another student, Zahrah also shared similar concerns and said they decided to get training in tailoring due to unemployment.
"Because we couldn't continue our studies due to the closure of the universities, we came here because of unemployment and preventing mental problems," Zahrah said.
More than 40 students are reportedly taking sewing lessons in this workshop at any given time, according to workshop officials.
"About forty to fifty female students are trained in the sewing department. We have three terms in this workshop: three months, six months, and nine months and the purpose of creating this workshop is to provide work and training of tailoring for female students who have been deprived of education," said Lina, head of the workshop.
Since the Taliban regained power in August 2021 after the US exit from the country, the women in the country have been living miserable lives, with no freedom. They are not allowed to work in the fields of education with domestic and international organisations, in gyms, or in public spaces.
Taliban has rolled back a wide range of human rights of women and girls. The regime has even put a ban on girls attending high school and university, and restrictions on their movement and work.
Afghanistan is facing its worst humanitarian crisis and the women of the country are denied fundamental rights. According to a World Food Programme assessment, Afghanistan is one of the nations with extreme food insecurity, with nine million people affected by severe economic difficulties and hunger.