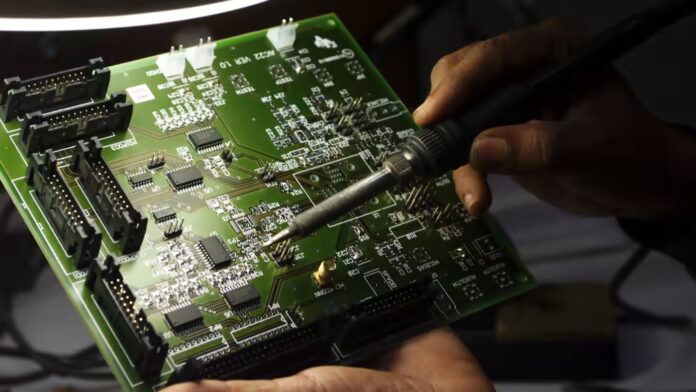 Tokyo sees chance to provide infrastructure assistance, improve supply chains
A semiconductor chip designer works on a computer component in the Indian city of Bangalore. Japan and India hope to bolster partnerships between businesses from their two countries for advanced industries.   © Reuters
TOKYO — Japan and India will start a policy dialogue to promote cooperation in semiconductors, hydrogen fuel and other advanced fields, Nikkei has learned, with plans for Tokyo to assist New Delhi in infrastructure development.
Yasutoshi Nishimura, Japan's minister of economy, trade and industry, will travel to India on Wednesday to meet with information technology Minister Ashwini Vaishnaw and Raj Kumar Singh, India's minister for power and for new and renewable energy.
The two sides are expected to sign a memorandum of understanding outlining the new framework. By coordinating on incentives and rules, they hope to strengthen partnerships between the Japanese and Indian private sectors in advanced industries.
For semiconductors, Japan and India will disclose information on technologies eligible for subsidies. The two countries each will invest in areas where they are strong, such as technology and materials development or in training professionals, with the goal of building an optimal supply chain.
India has responded to U.S.-China tensions by encouraging investment in its domestic semiconductor industry. In 2021, India approved about $10 billion in incentives to woo global chipmakers. New Delhi and Washington signed an MOU in March to advance cooperation on semiconductors.
Infrastructure for water and power is essential to develop a chip industry. Dialogue with India will open the doors to Japan providing support from the technological side, as well as to information sharing on India's business environment.
For the hydrogen sector, the two sides seek to agree on safety regulations regarding transport of the next-generation fuel. India, which is strong in solar power, has positioned green hydrogen, produced with renewable energy, as part of its national strategy.
India still lacks pipelines to deliver hydrogen have not been developed, and strict rules remain an obstacle. Japan plans to lobby India to ease regulations.